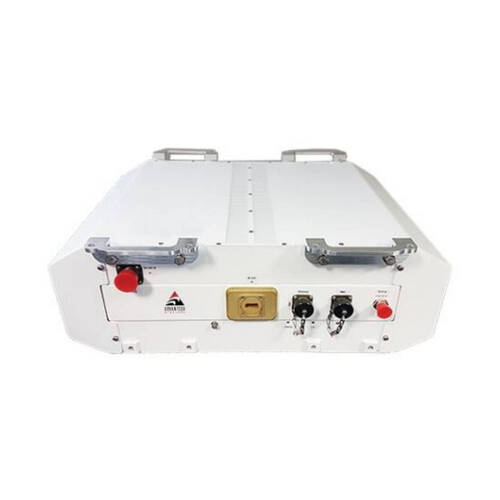 Summit II Soft-Fail Modular SSPA/SSPB Systems
Overview
The Summit II High-Power, Modular, Soft-Fail Redundant SSPA systems from Advantech Wireless Technologies are high power, wide bandwidth, all outdoor ruggedized systems that allow operation with multiple carriers and outstanding linearity. The new modular Summit II system is comprised of 4, 8 or 16 amplifiers that are phase combined into a single amplifier that can generate extremely high levels of RF output power – up to 10,000 watts or more. Summit II is available in C, X, Ku and S-band architectures.
Summit II is the next generation of our popular Summit high-power SSPA system. Each amplifier (or module) is arranged in a four, eight or sixteen module assembly that is factory integrated, tested and delivered as a complete system.
The SSPAs in the Summit systems are phase combined to reach the maximum RF output power from N-1 amplifiers, with the output of one amplifier held in reserve for redundancy. In the case of a module failure, the Summit operating system will increase the gain of the remaining amplifiers to bring the total system output power back to the pre- failure level. Switchless, soft-fail redundancy ensures that the system's RF output remains unchanged despite a module failure, unlike switched systems that experience a total interruption of output for the length of time that it takes for the switch to change positions.
Summit versus Summit II
Summit systems have been produced by Advantech Wireless Technologies for over 7 years. First generation Summit systems are still available for GaAs applications that will be deployed in wide carrier-spacing scenarios. Though the features between Summit and Summit II are similar, Summit II incorporates the latest in RF and control technologies.
The Summit II systems are comprised of modules that are housed in our Taurus SSPA package. As a result, Summit II is approximately 30% smaller and lighter – the perfect solution for antenna-platform mounting. Taurus provides optimized thermal management and high-efficiency waveguide combining that includes isolation from the transistor boards. Advantech's latest CANBus operating system provides fast inter-component communications as well as the ability to perform device-level diagnostics.
System components include power modules, waveguide, combiners, loads, phase adjusters, M&C distribution, AC power distribution – all housed in a welded frame. An optional redundant BUC system is available to accommodate L-band inputs. The frame can be modified to facilitate special installations such as full-motion antennas.
Highest Availability & Lowest Mean Time to Repair (MTTR):
Soft-fail redundancy, passive power-combining and modular architecture allow Summit II to deliver the highest availability and least amount of downtime for repair. Summit II operates via a 'Floating Master' feature such that any module in the system can operate as the master controller. This virtually eliminates single points of failure, resulting in hundreds of thousands of hours of availability.
Features
Highest Availability – no single point of failure.
30% smaller and lighter than Summit
Modularity allows systems to be upgraded in the field
Well suited for antenna platform mounting
Flying-Master Control Redundancy
Lightning-fast monitor & control with diagnostics down to the transistor-level
Half of the time required for system integration and test
Interactive touch-screen controller
Controlled Area Network (CAN) BUS M&C Protocol
Ideally suited for large embedded systems
Quote Request - Advantech Summit II High-Power SSPA
---