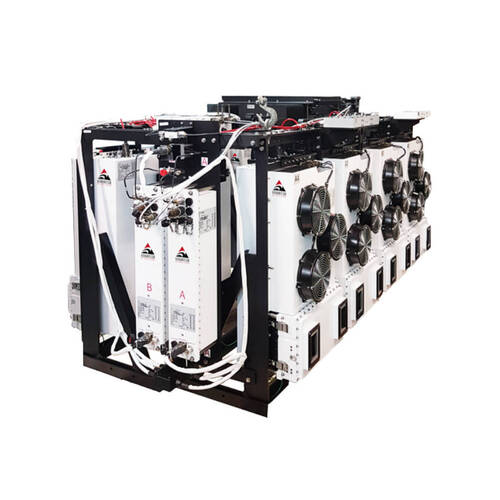 Summit: The Ultimate in Solid-State High-Power Amplification
Overview
Designed to be used as a direct replacement of Klystrons or TWTs (travelling wave tubes). These high power, wide bandwidth, all outdoor ruggedized systems will allow operation with multiple carriers and outstanding linearity. The new modular Summit systems have built-in redundancy with soft failure mode and operate simultaneously on both polarizations or on a single polarization with double the amount of power.
The High-Power, Modular, Soft-Fail Redundant SSPA system from Advantech Wireless Technologies provides availability in the hundreds of thousands of hours.
The SUMMIT system is comprised of 8 or 16 amplifiers that are phase combined into a single amplifier that can generate extremely high levels of RF output power – up to 10,000 watts or more. A SUMMIT SSPA system is typically sized to reach the required power-levels with 7 active modules for the 8-module system or 15 active modules for the 16-module system.
In the event of an amplifier failure during service with all amplifiers operational, SUMMIT senses the failure and adjusts the outputs of the remaining amplifiers to compensate for the loss so that the system's total RF output remains unchanged. The modular architecture of Summit allows the failed amplifier to be removed and replaced without service-interruption.
SUMMIT is available in C, X and Ku-band architectures and in both outdoor (antenna pad) and indoor (rack mount) configurations.
Features
Available in Power Levels of 10 kW+
GaN and GaAs Configurations
Ku, X and C Bands
Soft-Fail (Switchless) Redundancy
Modular Architecture with Field-Removable Power Supplies
Highest Availability in the Industry
Quote Request - Advantech Summit High-Power SSPA
---