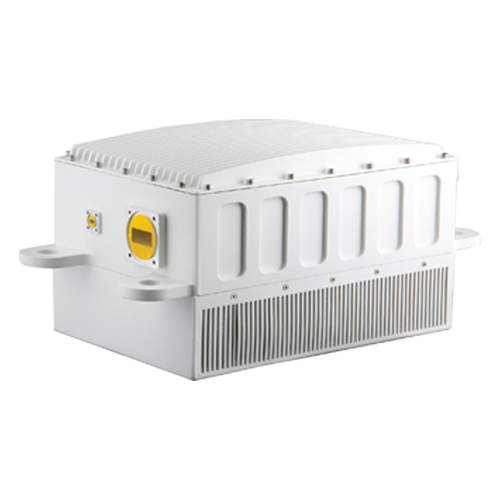 ALB Ruggedized X/Ka Series
Contact Us For Pricing
Fully MIL STD 810F certified
World's first rugged BUC design with X band and Ka band
Compact with enhanced M&C feature
Available for wide frequency range of operation
7.9 GHz to 8.4 GHz (X band) & 29 to 31 GHz (Ka band)
Highly reliable with wide operation temperature range

Overview
ALB X/Ka series of ruggedized BUCs have been developed for operation in extreme environments. Powerful and robust, these BUCs are designed and tested to meet the stringent MIL STD 810F for shock and vibration. The units are light and compact and have in-built redundancy feature. With just a control cable connection between the two units, they can be ready for operation in the redundancy mode.
The BUCs operate over a very wide output frequency range from 7.90 GHz to 8.40 GHz (X band) /29-31GHz (Ka band). Stringent phase noise specification renders the BUC suitable for use in low, medium and high data rate links. The BUCs are highly linear, so that they can be used close to their rated output power.
The BUCs are designed to meet the EN310489-1 for Radio Spectrum matters. IEC60950 for safety and FCC part 15 class B for EMI/EMC.
The BUC can be controlled and monitored through the PC on RS 485 interface.
Details
Fully MIL STD 810F certified
World's first rugged BUC design with X band and Ka band
Compact with enhanced M&C feature
Available for wide frequency range of operation
7.9 GHz to 8.4 GHz (X band) & 29 to 31 GHz (Ka band)
Highly reliable with wide operation temperature range
Gain compensation over temperature
RS485 and Ethernet M&C option
Built-in redundancy feature
Built-in 10MHz (auto sensing)
Quote Request - ALB Ruggedized X/Ka Series
---