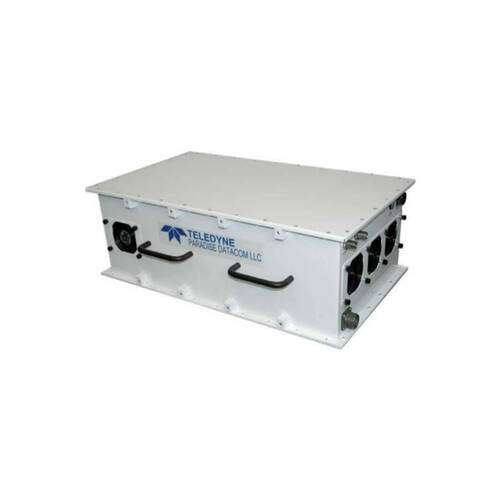 Overview
Teledyne Paradise Datacom's newly packaged High Power Outdoor (H) series of Solid State Power Amplifiers represent the latest in High Power Microwave Amplifier Technology. The SSPA package achieves the highest power density in the industry, along with enhanced maintainability.
A state-of-the-art thermal platform provides efficient cooling for the amplifier module and power supplies. This ensures the highest possible MTBFs for microwave power amplifiers.
Teledyne Paradise Datacom amplifiers are optimized for the best wide band intermod performance and linearity possible.
All Teledyne Paradise Datacom SSPAs have a full complement of local and remote control capability. The remote control capabilities include: RS485/RS232 serial control, Ethernet including SNMP, UDP, and internal web browsing. Discrete hardware control, Form C contact alarms and opto isolated inputs are also included.
Details
Extremely High Power Density:

to 500 W X-Band
to 600 W C-Band
to 250 W Ku-Band

RF Output Sample Port
Remote Communication via RS232/485 or Ethernet
-20 dB Gain Adjustment
Built-in 1:1 Redundancy Control with 'Cold' Standby capability
Built-in Maintenance Switch Controller
Quote Request - Paradise Datacom GaAs High Power Outdoor
---