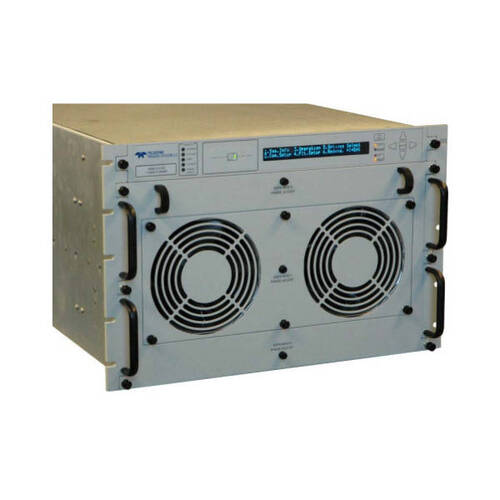 Overview
Teledyne Paradise Datacom's 7RU Indoor, High Power Rack Mount series of SSPAs represent the industry's highest power density and most reliable high power amplifier systems.
The High Power Rack Mount SSPA employs a modular design, which allows quick and easy replacement in the event of a catastrophic failure of one of the SSPA components. These modular assemblies include: hot-swap SSPA modules, front and rear fan trays; and a rear panel controller card. These amplifiers are powered via a separate power supply chassis.
The power supply is configured as a n+1 redundant, hot swappable, power supply comprised of up to four modules. The power supply is configured such that one module is redundant. In the event of a single power supply module failure, the HPA system will not fail. The power supply module can then be changed without ever taking the HPA out of service.
Details
Extremely High Power Density: to 1.1 kW C-Band; to 1000W X-Band; to 500W Ku-Band
Hot Swap, n+1 Redundant Power Supply
Power Factor Corrected Power Supply
Modular (soft-fail) Architecture
Removable fan assemblies
Ethernet Port
RF Output Sample Port
Built-in 1:1 Redundancy Control
Built-in Maintenance Switch Controller
Quote Request - Paradise Datacom GaAs 7RU SSPA Chassis
---