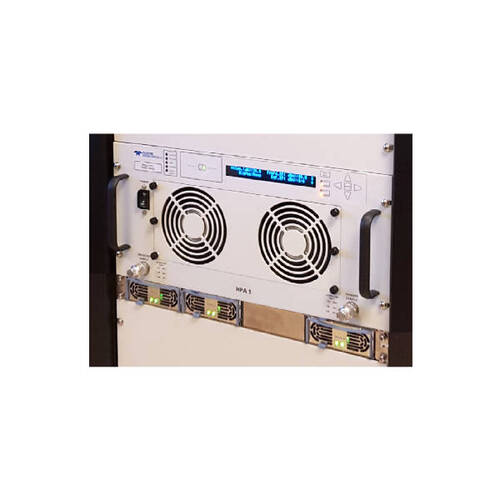 Overview
Teledyne Paradise Datacom's Indoor, Rack Mount (R) series SSPAs represent the latest in High Power Microwave Amplifier Technology. The 5RU SSPA chassis achieves the highest power density in the industry along with enhanced maintainability.
Local control is available with a user-friendly front panel interface. Five fault condition LEDs reflect some of the SSPA major faults states, plus a summary fault indicator. The SSPA online LED turns green when the amplifier is in Online mode (1:1 Mode) or serves as an AC power indicator in standalone mode. Local/Remote and Mute/Unmute LEDs show the current control mode and mute state of the amplifier.
Serial and parallel (contact closure) control is also available from the rear panel. Our free Universal M&C software allows monitor and control of the SSPA from a remote computer.
A state of the art thermal platform provides efficient cooling for the amplifier module and power supplies. This ensures the highest possible MTBFs for microwave power amplifiers.
Prime power to the amplifier is provided by a separate, external power supply in an N+1 redundant configuration. A failure of one power supply module will not take the amplifier off the air.
Details
Extremely High Power Density: to 1.6 kW X-Band to 1.6 kW C-Band to 1.0 kW Ku-Band
Removable Fan Tray and Monitor & Control Card Assembly
Remote Communication via RS232/485 or Ethernet
RF Output Sample Port
20 dB Gain Adjustment
1RU N+1 Power Supply
True RF Output Power Measurement
Built-in Maintenance Switch Controller
Quote Request - Paradise Datacom GaAs 5RU SSPA Chassis
---