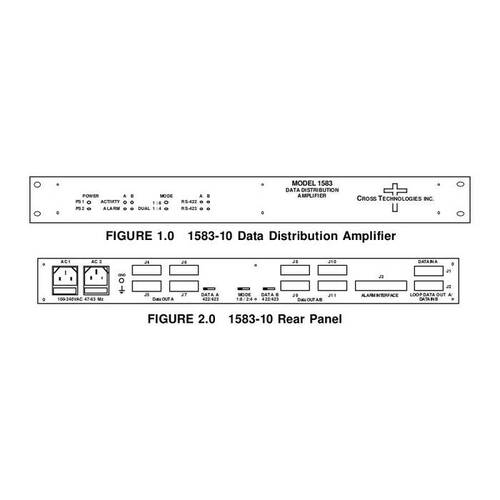 Overview
The 1583-10 Data Distribution Amplifier is a dual-functionality unit which may be (factory) configured in either of two (2) modes:
1:8 Mode, 1:8 data distribution plus pass-through mode; provides one (1) data input (J1) with eight (8) data outputs (J4 - J11) and a Input pass-through (J2) for input data to be sent to another device OR ….
Dual 1:4 Mode; two (2) data inputs (J1 & J2), each with four (4) data outputs (J4 - J7 and J8 - J11 respectively)
All data ports are (user selectable) RS422/423 (RS232 compatible) DB9, female connectors. Data signals on the DB9 connectors are pin 2 (RS232/423) or pins 2 & 7 (RS422). Data activity monitor (factory) set from 1 to 9 minutes.
Dual switching power supplies provide redundant power. Front panel LEDs indicate power supply operation, 1:8 or Dual 1:4 mode, Data activity (Inputs A and B). The unit is housed in a 1.75", rack mount chassis. Rear panel provides Alarm Interface (DB25) and Data type selection (RS 422 or 423(RS232 compatible)) switches.
Details
(View Our Datasheet)
Quote Request - Cross Data Distribution Amplifier
---