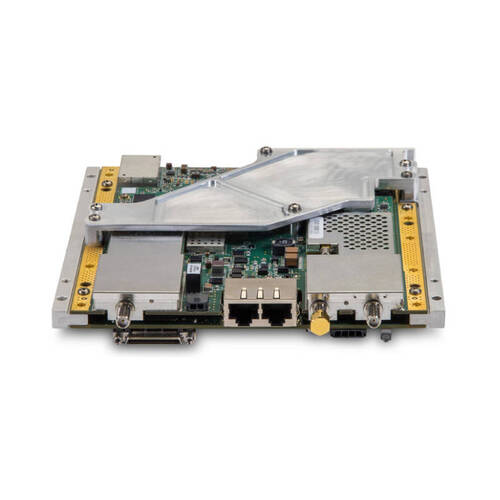 950mp Board Satellite Modem
Overview
ST Engineering iDirect's 9-Series modems provide a superior level of IP broadband capability, supporting DVB-S2/ACM and Adaptive TDMA and are designed for high-bandwidth fixed and mobility applications. The 9-Series has enhanced performance, efficiency and security with FIPS 140-2 Level 3 certification and supports both one-way and two-way TRANSEC to enable mission-critical communications.
The 950mp modem board is optimized for size, weight, and power (SWaP) with a 30% reduction than its predecessor. Lightweight and power-efficient, the 950mp is designed for integration into highly portable COTM solutions. The 950mp meets the most rigorous demands for tactical terminals delivering mobility and security, and always-on broadband capabilities into compact form factors that support data, voice, and video connectivity in highly mobile military and government applications. The 950mp has been industrialized to MIL-STD 810G requirements for extreme operational conditions. This energy efficient modem board builds off of existing transmit keyline capabilities that improve battery performance. The 950mp includes increased memory to support multiple software images for ease of upgrade.
The 950mp feature set is also available in a more robust 900 Modem Board featuring an 8-port switch and dual demodulators for networks utilizing multiprotocol encapsulation (MPE) traffic as well as in a 1RU rackmount chassis with the 9350 Modem.
Features
DVB-S2 up to 45 Msps
Adaptive TDMA up to 29 Msps
Extremely compact and ideal for both fixed and mobility applications
FIPS 140-2 Level 3 Certified (#3056) TRANSEC module (E0002268)
Extended frequency ranges for WGS constellations
Markets
Quote Request - iDirect 950mp Board Satellite Modem
---