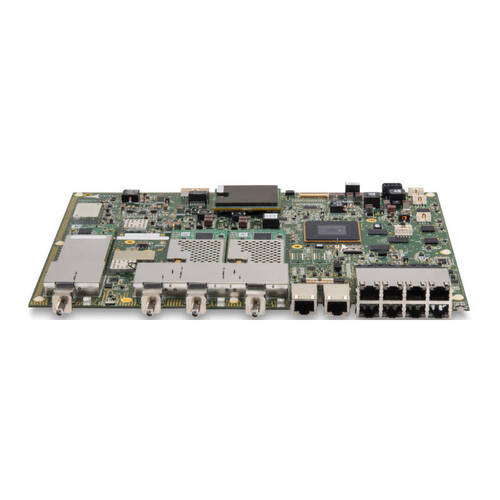 900 Board Satellite Modem
Overview
ST Engineering iDirect's 9-Series modems provide a superior level of IP broadband capability, supporting DVB-S2/ACM and Adaptive TDMA and are designed for high-bandwidth fixed and mobility applications. The 9-Series has enhanced performance, efficiency and security with FIPS 140-2 Level 3 certification and supports both one-way and two-way TRANSEC to enable mission-critical communications.
The 900 modem board features dual DVB-S2 demodulators for networks utilizing multiprotocol encapsulation (MPE) traffic, as well as an 8-port Gigabit switch to securely segregate user traffic. The 900 is designed to meet MIL-STD 810G when placed in a properly engineered enclosure. Optimized for integration into both fixed and mobile terminals, the 900 is a powerful board-level solution.
The 900 modem board feature set is also available in a rackmount form factor. The 9350 Modem comes in a 1RU chassis and features an LCD screen, allowing the user to view modem configuration and statistics as well as a zeroize button for added security.
Features
DVB-S2 up to 45 Msps
Adaptive TDMA up to 29 Msps
Dual demodulators to support two data streams
Ideal for both fixed and mobility applications
FIPS 140-2 Level 3 Certified (#3056) TRANSEC module (E0002268)
Extended frequency ranges for WGS constellations
Markets
Quote Request - iDirect 900 Board Satellite Modem
---