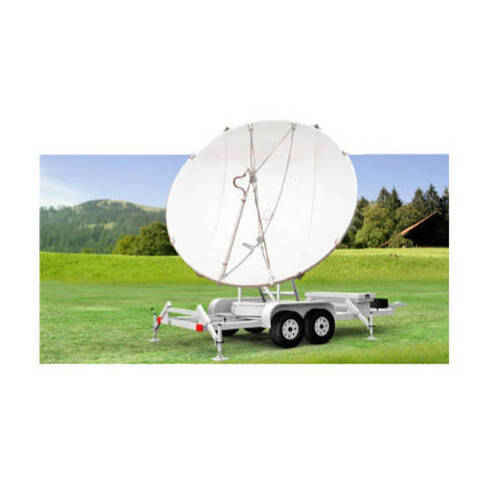 Overview
The ASC Signal 4.5 Meter Prime Focus Trifold™ is a transportable satellite antenna system, designed for use worldwide in various applications serving data, voice and communications networks.
A broad range of adjustments provides non-critical Positioner/Trailer orientation and the ability to view geostationary satellites, horizonto-horizon, from any location worldwide. The system provides a high quality and dependable antenna platform, supported by the worldwide ASC Signal Corporation service and support network.
The electrical performance and versatility allows the ability to configure the antenna with a variety of transmit and receive feed assemblies. This versatility provides the ability to configure the antenna with multiple linearly or circularly polarized C-band, X-band and Ku-band prime focus feed systems. Each feed system has been designed to be easily removable for transport.
The antenna system design consists of a spun aluminum reflector, a removable subreflector, heavy duty elevation over azimuth Positioner, and an optional heavy duty Trailer for transport.
The 4.5m Trifold™ system provides a complete solution for mobile communications. Its versatility allows the system to be configured to meet various customer applications, including commercial and military.
Trifold™ antennas can have non standard custom designed configuration such as:
Military trailers; 2 and 3 axles
Equipment enclosures
Environmental control
Generators
RF equipment integration
Details
Tracking and Auto Acquisition
C, X and Ku-Band Capabilities
Various Configuration and Integration Options Available per Customer Request
Three Axis Motorization
MTBF: >15,000 Hhours
MTTR: <30 Minutes
U.S. FCC Regulation 25-209 for Mandatory Pattern Requirements for 2º Satellite Spacing Based on Off Satellite Measurements at Ku Band
ITU-R S.580 and S.465 Recommendations for Pattern Performance for 2° Spacing
Rugged Aluminum and Steel Construction Provides 125 mph (200 km/h) Wind Survival in the Stow Position and 30 mph (48 km/hr) Gusting to 45 mph (72 km/h) in any Position of Operation
Quote Request - ASC 4.5m Trifold Transportable Antenna
---