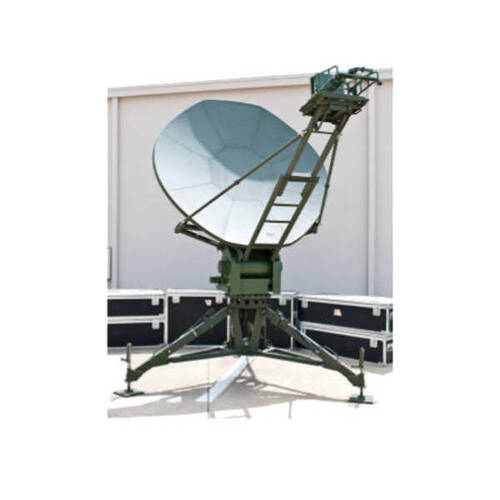 Overview
The ASC Signal 2.4/2.5 m Nomadic is a highly flexible antenna system designed to operate on almost any satcom band and in many configurations. The entire reflector structure consists of lightweight carbon fiber panels, with multiple mounting scenarios, and can be ordered in motorized or nonmotorized versions. With feeds available to address L-, C-, X-, Ku-, K-, Ka-, and Q-bands, as well as low PIM capable feeds, few applications are beyond its capabilities.
This antenna supports a variety of interchangeable feeds which are engineered for simple removal and replacement in the field. The reflector is constructed with a precision-formed honeycomb core and a carbon fiber skin which assures durability and high performance. The reflector is readily available in one-, three-, and nine-piece versions - all sharing common RF design components and performance capabilities.
The Nomadic is designed to be lightweight, with maximum stiffness, yet offers compact and highly robust components. The versatile architecture makes it ideal for launching highly divergent equipment applications using a single, flexible, modular and cost-effective equipment base.
Electronically engineered to operate at multiple frequencies, ASC Signal's 2.4/2.5 meter Nomadic is capable of transmitting and receiving signals under demanding wind loads and surviving winds up to 100 mph. Weighing less than 220 kg (480 lb), in fully motorized versions (including feeds), the tactical version can be deployed by two trained individuals within 30 minutes.
Details
Multiple Versions available
2.4m with one-, three-, and nine-piece reflector panels
2.5m with one-piece reflector panel
Motorized and non-motorized axes
Pedestal, Tactical and Mobile Mounts
Eight-case ISO shippable version
Lightweight reflector , high accuracy tracking mount
Interchangeable feed systems for quick field swaps
Meets all applicable FCC, ITU and Mil-Spec standards
Designed to comply with MIL-STD-810F
Various trailer configurations are available
Low PIM X-band available
Quote Request - ASC 2.4m and 2.5m Nomadic Earth Station Antenna
---