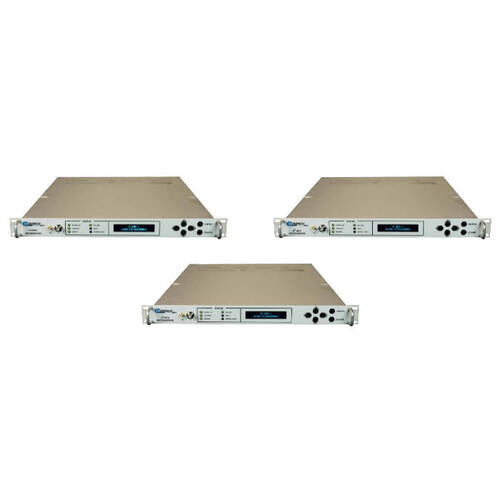 Overview
Our Up Converters are the ultimate in high-performance and cost-effective frequency conversion. An Up Converter can be used for SCPC, DAMA, and TDMA, as well as full transponder HDTV and analog TV. Spectral purity and stability characteristics fully meet or exceed the requirements of all domestic, international, and regional commercial satellite networks, including the Eutelsat HotbirdTM family.
Details
High Gain - Each Up Converter has +10 dBm minimum output level at the 1 dB compression point and 35 dB of gain as a standard. This capability permits longer cable runs to the modem rack or compensates for elaborate splitting networks without adding expensive options such as external line amplifiers.
Low Phase Noise - The phase noise performance exceeds the Intelsat phase noise mask for IBS and IDR services by more than 6 dB. This allows phase dependent demodulators to perform better. The close-in phase noise is very low, making the converter ideal for low bit rate digital circuits such as those used in DAMA hub earth stations.
Daisy Chain Redundancy Switching - The converters use our patented "Daisy Chain" integrated switching technology. The Daisy Chain design removes the relays associated with a centralized protection switch tray and distributes them across the individual converters. Daisy Chain technology successfully eliminates a central switching chassis, two power supplies, a microprocessor, and several long, costly cables. Widely accepted in the industry, Comtech EF Data's Daisy Chain provides both pricing and marketing advantages.
Remote Control - The remote control interface is selectable between EIA-232 and EIA-485, as well as full Ethernet including Telnet, SNMP and preloaded HTML GUI. All configuration control, status retrieval, and adjustments are available as simple ASCII commands through the serial interface or through the front panel menu. As a cost option, the remote control command structure can be customized in order to accommodate existing network control software.
Detachable RF/IF Connector Module - Each Up Converter is equipped with a detachable I/O Module (IOM) that establishes input and output connections for the RF and IF paths. The module inserts into a rear compartment of the converter, and requires no additional outside space. The module includes a SMA connector for the RF path and a BNC connector at 50 or 75 Ω for the IF path.
Minimum Rack Space - Due to its small rack height (1.75 inches) and the elimination of the space penalty paid for a separate 1+N switch chassis, the UT-4518 and the Daisy Chain switch architecture provide the most compact and cost effective converter subsystem available. The units are ideal for the construction of transportable systems such as "flyaways," and high capacity earth stations where space utilization and economy are prime considerations.
Quote Request - Comtech UT-4579 Series X-Band Up Converter
---