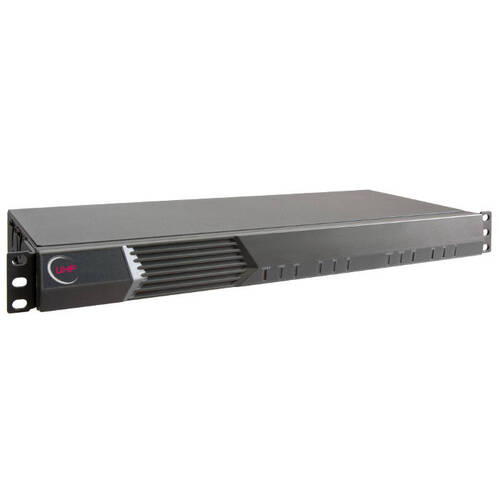 Overview
Each of two integrated routers can process 200,000 IP packets per second, 200 Mbps of traffic and two 65 Msps carriers, it can do this with best utilization of the precious satellite resource, as evidenced by up to 32APSK modulation, 5% spectral roll-off, adaptive modulation and coding, adaptive power control and 96% efficient TDMA protocol. This satellite router is a good fit for complex 1:1 redundant TDM/TDMA terminals or can be used as a multi-channel SCPC receiver / concentrator.
Multiple demodulators with separate IF interfaces allow simultaneous reception of four TDM and/or SCPC carriers from few distinct satellite beams or from several antennas. Two TDMA modulators may transmit simultaneously using separate IF outputs.
UHP-140 dual satellite router is supplied in a compact 1U chassis for installation in a standard 19 inch rack. Each built-in router has independent interfaces and own power supply ensuring reliable operations of the router itself and of the outdoor RF equipment from multiple vendors. Low power consumption, optional DC power input, and uniquely fast start on power-up facilitate use of alternative power sources, such as solar batteries.
Details
High-performance Satellite Router for TDM/TDMA networks
Aggregate throughput above 400 Mbps
Four DVB demodulators with separate inputs and rate up to 65 MSps
Enhanced DVBS2 modulations with 5% or 20% rolloff
Two MF-TDMA modulators with proven efficiency of 96%
Adaptive coding and modulation and transmission power control
Dual satellite or dual band operations with dynamic traffic balancing
Automatic beam switching and support of OpenAMIP
Superior IP router productivity up to 200'000 pps
Reach set of supported protocols, including L2 bridging
Support of VLAN, multilevel QoS, TCP acceleration
Builtin adaptive hierarchic traffic shaper specially designed for VSAT
Two Ethernet user's ports with built-in switch
Ultralow latency VSAT system with roundtrip delay about 570 ms
Fast network startup - network is ready for use in less than a minute
Low power consumption – less than 10 Watt (without RF ODU)
Support of 1:1 or 1:N automatic redundancy schemes
Quote Request - UHP-140 Dual Broadband Satellite Router
---