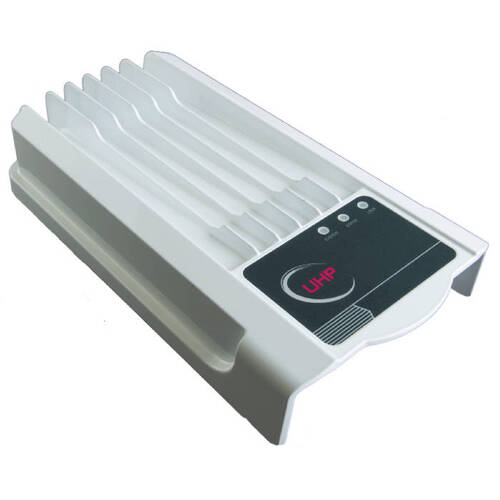 Overview
UHP-1200 satellite router (previously known as UHP-1000-OD) is a universal component of highly-efficient satellite networks of any operation mode or topology. UHP-1200 router can work as a SCPC modem with the satellite carrier fixed or assigned on-demand. It can also be a mini-hub or a remote terminal in TDM/TDMA network or any node (master or slave) in a fully meshed Hubless TDMA network. Inexpensive, highly scalable and very flexible hardware provides the best cost of network ownership.
Innovative algorithms for network access, resource allocation and data encapsulation as well as advanced modulation and coding, implemented in the UHP routers, ensure efficient utilization of satellite resource. Two built-in demodulators allow simultaneous reception of both TDM carrier from the hub and TDMA mesh carrier. Universal modulator can instantaneously switch from TDMA burst mode to SCPC dedicated mode, thus assuring high data throughout and efficiency.
Rugged weatherproof satellite router UHP-1200 is designed for outdoor installation, for example, directly on the antenna. IP67 compliant enclosure and innovative system for active heating/cooling guarantees quick start and operating performance over a wide range of temperatures and a harsh environment. Supported power options include DC and Power over Ethernet (PoE).
UHP-1200 router is a good fit for transportable and mobile terminals, for enterprise networks and for SCADA and M2M networks as well as for cellular backhaul over satellite and emergency backup and news contribution networks. The router interfaces with mobile antenna systems via OpenAMIP or various proprietary protocols. The outdoor router supports a variety of power options, including Power over Ethernet (PoE) that excludes using coaxial cables to connect with a CPE.
Details
Rugged, weatherproof, IP67-class design
Wide range of the operating temperatures
SCPC, SCPC-DAMA, TDM/TDMA, Hubless TDMA
Any topologies: point-to-point, star, multilevel, full-mesh
The world's first TDM/TDMA Mini-Hub in outdoor enclosure
DVB-S2 ACM VSAT technology with LDPC coding in TDMA
Superior throughput up to 60'000 pps and 150 Mbps aggregate
Ultra-low latency VSAT system with round-trip delay 570 ms
VLAN, multi-level QoS, RT traffic handling, TCPA
Adaptive hierarchic traffic shaper specially designed for VSAT
Local web-console and Network Management System
Fast network startup: ready for use in a minute upon power-up
Low power consumption allows using alternative power sources
Built-in power converter and a reference oscillator for RFU
Quote Request - UHP-1200 Outdoor Satellite Router
---