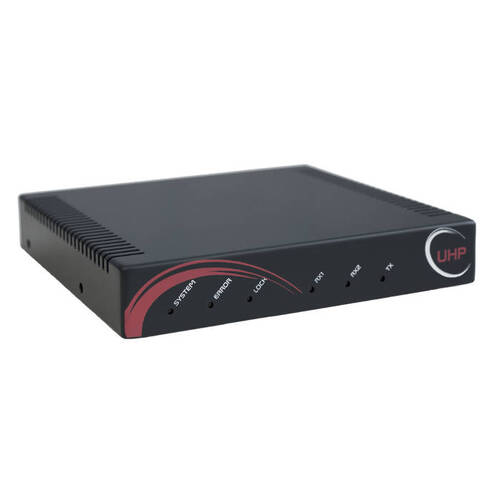 Overview
High-Throughput Satellites (HTS) open unprecedented opportunities for networking over satellite. UHP-100 is a high-performance router designed specifically for large-scale deployment in broadband VSAT networks operating over HTS. This product combines the Universal Hardware Platform (UHP) architecture, which was developed in the previous generation of the award-winning UHP product line, with the state-of-the-art semiconductor technology. The result is its unique performance. Not only UHP-100 can process 200,000 IP packets per second, 225 Mbps of traffic and two 65 Msps carriers, it can do this in a super-compact size, with low power consumption (less than 10W) and with best utilization of the precious satellite resource, as evidenced by up to 32APSK modulation, 5% spectral roll-off, adaptive modulation and coding, adaptive power control and 96% efficient TDMA protocol.
UHP-100 is equipped with two high-speed demodulators together with their independent IF inputs and front ends. These can simultaneously receive two carriers transmitted via two different satellite beams, which can even be in different frequency bands. The dual demodulator in conjunction with a built-in advanced beam switching algorithm facilitates seamless roaming of mobile satellite terminals between distinct beams of HTS satellites.
The main application for UHP-100 is broadband, SCADA, cellular backhaul and multimedia connectivity in large VSAT networks using HTS. The terminal interworks with the latest generation of scalable UHP TDM/TDMA Hubs.
Details
High-performance Satellite Router for TDM/TDMA networks
Aggregate throughput above 200 Mbps
Two DVB demodulators with separate inputs and rate up to 65 MSps
Enhanced DVBS2 modulations with 5% or 20% rolloff
MF-TDMA modulator with proven efficiency of 96% compared to SCPC
Adaptive coding and modulation and transmission power control
Dual satellite or dual band operations with dynamic traffic balancing
Automatic beam switching and support of OpenAMIP
Superior IP router productivity up to 200'000 pps
Reach set of supported protocols, including L2 bridging
Support of VLAN, multilevel QoS, TCP acceleration
Builtin adaptive hierarchic traffic shaper specially designed for VSAT
Two Ethernet user's ports with built-in switch
Ultralow latency VSAT system with roundtrip delay about 570 ms
Fast network startup - network is ready for use in less than a minute
Low power consumption – less than 10 Watt (without RF ODU)
Quote Request - UHP-100 Broadband Satellite Router
---