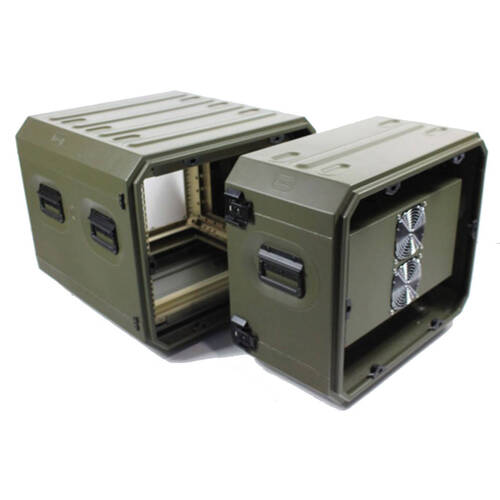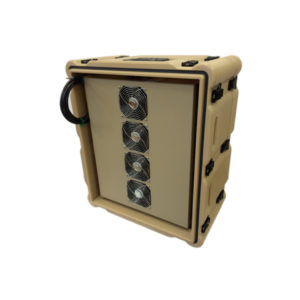 Transit Cases
Transit Cases are produced across the world by a limited number of different manufacturers, most commonly constructed of aluminum or rotomolded polyethylene. These high quality 19 inch racks do an excellent job protecting essential electronics and other equipment from harsh weather as well as contamination from dirt, dust and sand.
However, when these airtight racks contain electronics, the internal heat can become trapped and cause overheating with disastrous effects.
We produce a range of vibration mounted 19 inch electronic racks with the option to fit insulation and air conditioning units as a part of the rack. This is normally achieved by choosing a mating "COOL COLLAR", designed to house the air conditioner (only). Access and control points are obtained via one or more side-mounted optional connector panels.
Built into the rack system, these climate control units provide cooling (and heating, when required), automatically when pre-set temperature perameters are met. Normally end-mounted, We offer the capability to integrate in a range of orientations to fit client requirements.
Thermoelectric Air Conditioners
Thermoelectric cooling units (TEU), based on the Peltier effect, are solid state systems with no moving parts, other than axial fans to distribute the cold air. The TEU design provides a complete air conditioned and heated transit solution that is both efficient and highly reliable, and coolers are available in various sizes.
Other benefits of thermoelectric air conditioning include extremely low maintenance, no air exchange (between inside and outside), no compressor, no refrigerant and no brownouts at low voltage.
Features
Thermoelectric air conditioners available
"Closed loop" cooling
Indoor or outdoor use
Insulated rack casing
Quote Request - Transit Cases - Climate Control
---