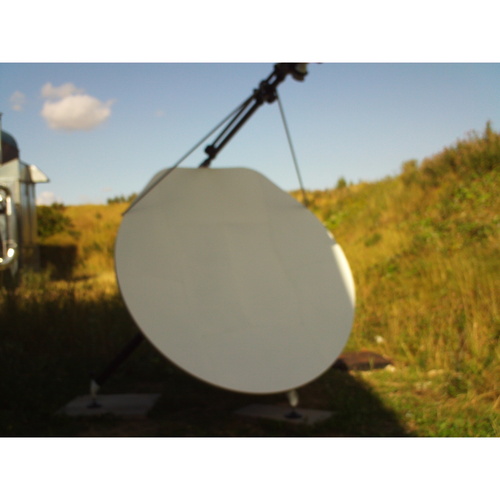 TP150X - 1.5m Tri-band X, Ku & Ka Segmented Flyaway
The TP150 antenna system from Holkirk is renowned for its compact size, lightweight and powerful performance which has been designed to excel in today's increasingly demanding DSNG market place.
Easy of use
The user friendly modular design of the TP150 antenna allows for simple, fast and accurate location and acquisition of the satellite, either as a manually controlled mount or as a fully auto-pointing and motorised system, there are no tools required to assemble the TP150.
Versatile
The novel light weight and sturdy tri-pod design includes a truly versatile HPA cradle which can accommodate a wide range of third party HPA's up to 400W in X, Ku and Ka-bands, neatly doing away with the long lengths of fragile flexible wave-guide normally associated with flyaway systems.
Revolutionary
The main reflector is manufactured from high quality carbon fibre and is supplied in eight easily assembled petals that employ a revolutionary spherical dowel locking mechanism to ensure perfect alignment.
Options
High Stability LNB
3 axis Jog-controller
Auto-Pointing controller
Inclined orbit tracking controller
23kg weight packaging
Sand shoes for extra stability
Compact flight cases for sample TP system, other packaging options are available
Features
Quick deploy assembly (under 5 minutes)
No assembly tools required
High gain carbon fibre reflector
Light weight IATA compliant
Compact and robust
Full Auto-Pointing options
SSPA/TWT integration
X, Ku and Ka frequency band options
Quote Request - Holkirk TP150X 1.5m Tri-band X, Ku & Ka Segmented Flyaway
---