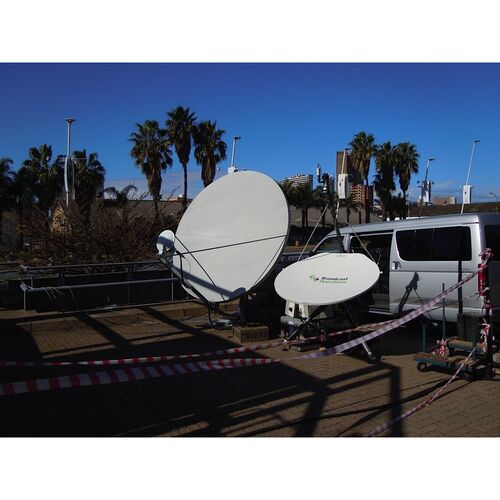 TP150 - 1.5m 8 Segment Carbon Fibre Flyaway
The TP-150 antenna from Holkirk is designed to excel in today's increasingly demanding DSNG environment.
With a well proven track record the TP series of antennas provide simple, fast and accurate satellite acquisition either as a manually controlled mount or as a fully autopointing motorised system in the harshest applications.
This user friendly, compact and light-weight antenna is available in X, Ku, DBS & Ka bands and can be operated globally controlled either by a local hand held interface or via a touch GUI screen making the TP150 simple to set-up and operate even in adverse weather conditions or hostile environments.
The light weight but sturdy tripod design includes a truly versatile HPA cradle which can accommodate a wide range of 3rd party amplifiers up 200w in Ku band, neatly eradicating the need for long lengths of flexible waveguide.
The main reflector is manufactured from high quality carbon fibre that employs a revolutionary spherical dowel locking mechanism to ensure perfect alignment.
Features
1.5m High accuracy carbon fibre reflector
Up to 400w Tx power
Fully auto-pointing options
No assembly tools required
Colour options available
X, Ku, DBS & Ka bands
BUC mounting on boom or on elevation head
Manual over rides on all 3 axis
Quick connect waveguide couplers
Accessories
Manual jog, auto-acquire or inclined orbit tracking controller
RF mounting options
High stability LNB
Sand Shoes
Quote Request - Holkirk TP150 1.5m 8 Segment Carbon Fibre Flyaway
---