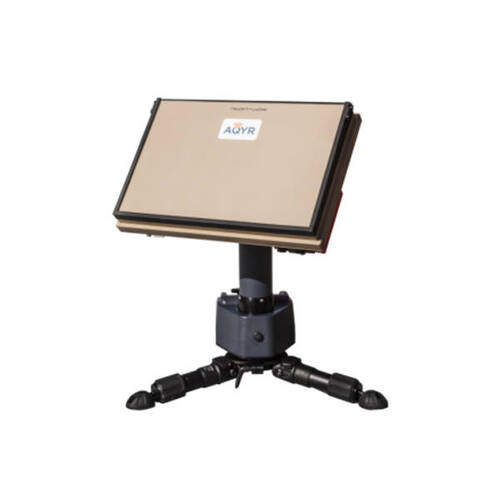 ThinPACK AutoAQYR Terminal Overview
HIGH-PERFORMANCE, COST-EFFECTIVE INTERNET ACCESS ON THE GO
AQYR's ThinPACK® AutoAQYR™ Terminal features the unique AutoAQYR software which delivers lightning fast acquisition and packs into a single rugged case. Known for our reliable manpackable terminals used by the elite military Special Operation Forces, the ThinPACK AutoAQYR Terminal is the next-generation
of rapidly deployable satellite communication terminals. The ThinPACK AutoAQYR Terminal is comprised of a lightweight flat panel antenna. The broadband terminal supports worldwide commercial and government Ka-Band networks with compact integrated RF components. ThinKom's ultra-portable, antenna
provides high throughput (up to 20 Mbps Downlink at 13 dB/K G/T and 16 Mbps Uplink at 49 dBW EIRP) and highly efficient use of transponder bandwidth (1-2 bits/Hz). There is no assembly required and the antenna is fast and easy to align and stabilize. The broadband terminal supports worldwide commercial and
government Ka-Band network.
EASY INSTALLATION AND OPERATION
Special Operations Forces, military communicators, field reporters, remote medical and peace workers, and emergency responders benefit from high-speed Internet with the convenience of near instant connectivity even in locations where no other communications infrastructure is available. The form factor is ruggedized to support operation in harsh conditions and supports multiple configuration options to suit user needs. The ThinPACK AutoAQYR Terminal is designed to be modem and satellite service agnostic, but offers significant system-level integration with iDirect Evolution class modems.
Details
Simple Rapid Deployment, No Tools Required
AutoAQYRTM Acquisition Algorithm
Packs in a Single Case, Airline Checkable
Simple, Integrated, Intuitive User Interface
User Configurable Satellite Settings
Remote Graphical User Interface (GUI) Available
Automatic Modem Profile Integration With Positioner
Modem Agnostic
Quote Request - ThinPACK AutoAQYR Terminal
---