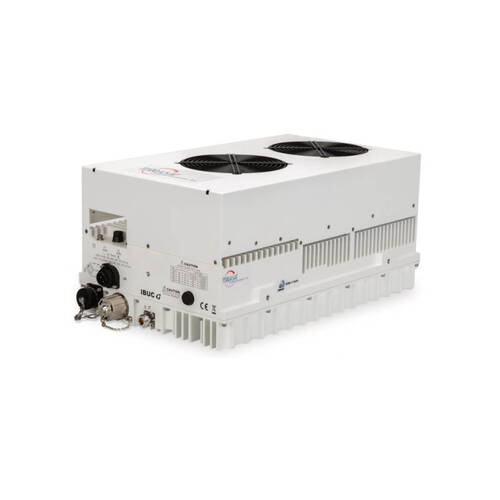 Ka-Band IBUC G 80W Compact GaN
The IBUC Advantage
All IBUCs are equipped with cutting - edge intelligent technology:
Highest quality & exacting performance guaranteed through individual unit testing over temperature
Superior linearity for maximum useable output power
Amplifier overdrive protection
User - selectable AGC /ALC for optimal performance & compatibility with modem adaptive coding
New high capacity microprocessor & extended M&C functions
Weatherized RJ45 Ethernet interface for simplified connection
Ultimate Management & Control
Local Web Interface & NMS - Friendly SNMP
70 + User Configurable Thresholds & Alarms
Upgraded Event Log with 1, 000 Sensor Readings
Performance Trend Analysis Tools & Statistical logs
Embedded Web Pages for Universal Web Browser Access
Applications
The new 80W Ka - Band IBUC G delivers the highest output power in the product line for high data rate Ka - Band applications. Excellent linearity & phase noise performance support higher order modulation satellite links. A good choice for applications such as telecom & network hubs. Multiple sensors & a new, high - capacity microprocessor provide tools to optimize terminal performance.
Gallium Nitride amplifier technology enables smaller packaging for antenna mounting, eliminating the losses in long waveguide runs. And the greater power efficiency translates to an appreciable reduction in power consumption. Comparing favorably with earlier technology TWTAs, the GaN IBUC G delivers maximum linear output power with the reliability of solid state.
Options
1+1 Transmit Redundancy
High Stability Internal 10 MHz Reference with Auto - Detection
Three Factory Select Bands
Type N or F - Type Input Connectors
Handheld Terminal
Quote Request - Terrasat IBUC G 80W Ka-Band
---