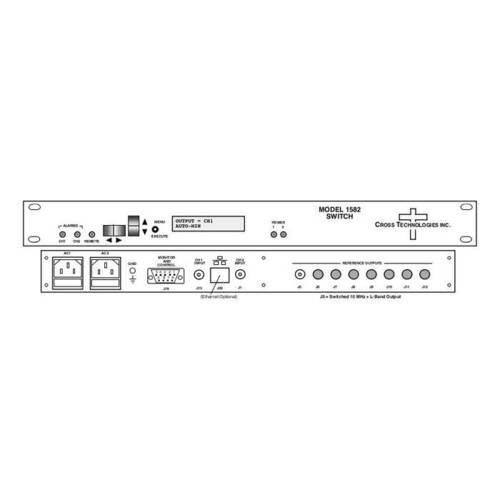 Overview
The 1582-1001LB is a 1:1 Switch that provides Auto, Manual or Remote relay switching between CH1 and CH2 of 10 MHz + LBand composite signals based on the presence of the 10 MHz signal. Alarm conditions on CH1 and CH2 are a level drop below -6 dBm of the 10 MHz signal. Switching logic can be selected as follows:
CH1 Prime Mode (1PRIME) - Switches from CH1 to the CH2 only if CH1 alarms and CH2 is good. Switches back when CH1 no longer is in alarm or both CH1 and CH2 are bad.
Minimum AUTO switching, Initial Channel Select ( MIN) Mode - The switch stays on the channel last selected by Manual or Remote selection. When then in AUTO mode, switching occurs only if the selected channel alarms and the other channel is clear. After switching to the other channel, switching back occurs only if this channel then alarms and the other channel is clear.
When power is lost and when power is applied (as alarms at power up dictate), CH1 is selected. Front panel LEDs indicate CH1 and CH2 alarms, Remote mode (yellow), and redundant power supplies on (green). Multi-function push button switches select Auto, Local, or Remote operation and the signal path in the Manual mode. Remote operation via the RS232/RS485 (Ethernet Optional) M&C interface allows selection of CH1 or CH2 and indicates switch position and alarm status. A contact closure to ground indicates if either or both CH1, CH2 are in alarm. An LCD display shows Auto, Local or Remote operation and the signal path. Connectors are BNC, female for the 10 MHz + L-Band signals and DB9 for M&C and for the alarm contact closure output. The 1582-1001LB is a 1RU chassis with redundant power supplies fed by separate fused 100-240 ±10% VAC AC input connectors.
Details
(View Our Datasheet)
Quote Request - Cross Switch 1:1 provides Auto Manual or Remote Relay Switching
---