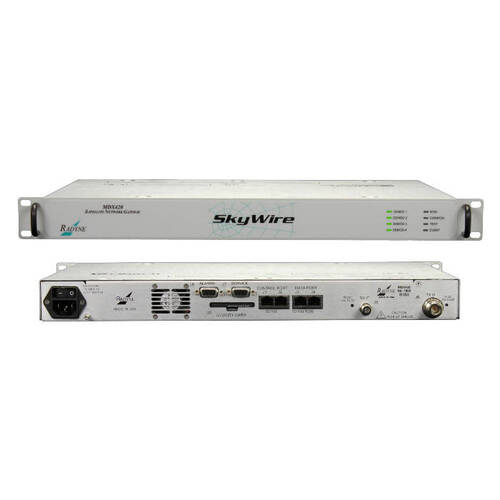 Overview
The revolutionary SkyWire™ MDX420 is one of the most innovative satellite products. The system combines the throughput and robustness of a single channel per carrier (SCPC) system with the bandwidth savings of a time division multiple access (TDMA) system.
The SkyWire MDX420 leverages the benefits of each to provide the ultimate in satellite network performance.
The SkyWire MDX420 is the first TDMA broadband satellite system to eliminate the need for high stability references or an expensive central hub with complicated system software. With its revolutionary single hop bandwidth-on-demand capability, the SkyWire MDX420 minimizes system response time to changes in traffic flow. The small efficient burst sizes and ultra low overhead allow the SkyWire MDX420 to provide unprecedented bandwidth efficiency and increased network throughput.
Details
Most bandwidth-efficient TDMA solution available
Connect remote sites in a TRUE full mesh, hub and spoke, or hybrid network configuration
TDMA network throughput capability of over 86 Mbps and 168,000 pps
Multiple Link / Multiple transponder operation
Advanced Turbo Product Code FEC
Dynamic bandwidth allocation with single hop bandwidth-on-demand functionality
Programmable, multi-queued Quality of Service (QoS)
Graphical user interface program for monitor and control
Quote Request - Comtech SkyWire MDX420 Satellite Network Gateway
---