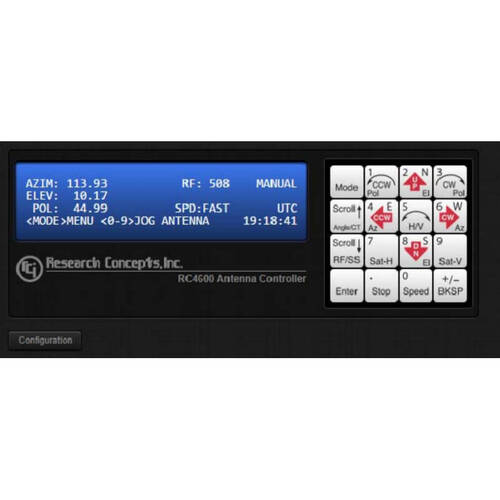 Servo Based Antenna Controller RC4600
Servo Antenna Control Unit for Mobile and Deployable Satellite Antenna Systems
Building on the long history of RCI antenna controllers, the RC4600 combines the familiarity and ease of use of all RCI controller with the extreme performance of servo-based position holding. The RC4600 is available in a 2RU rackmount configuration or a made to order IP67 rated outdoor enclosure to meet all mobile, transportable, and fly-away antenna needs.
Features
High Rate Position Correction

64 Hz on axis position servo eliminates pointing errors on two (or three) axes 64 times a second.
High-Resolution AZ/EL Position Sensors

16-bit on axis resolvers (.0055° resolution)
25-bit on axis encoders optional (.00001° resolution)
DISA/DSCS Compliant Tracking

Step Track/Memory Track
NORAD Two Line Element Track (TLE)
Enhanced Smart Predictive Track (ESP)
Highly Adaptive Servo Functionality

DC/BLDC/Stepper/AC Motors
12 limit switch inputs available
Tach or encoder velocity feedback
Market Leading Safety

Continuous current monitor, position monitoring and system fault monitoring ensure personnel and antenna safety
Integrated Tracking Receiver

Novella B38
AVCOMM SBS2
ASC 350L
Instant On, Application Specific Software

Ready to use in less than 20 seconds makes satellite acquisition fast
No special PC software needed
Optional Integrated Spectrum Analyzer

Remotely monitor RF spectrum and antenna status in a single interface
Optional Handheld Remote

Ideal for antenna maintenance
Ethernet Interface

Simple graphical user interface via web browser
Full M&C protocol via IP
SNMP v3 monitoring
Quote Request - Research Concepts Servo Based Antenna Controller RC4600
---