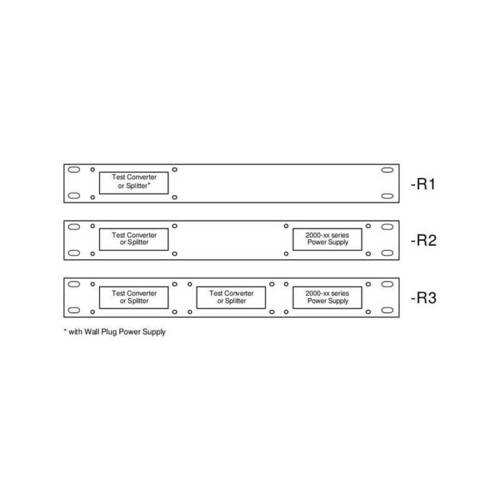 Overview
The Series 200x-yy bench top Test Converter products, 284-xx series Splitter products and their respective 2000-xx series Power Supply products, can ALL be mounted on 1 3/4" (1 RU) panels for rack mounting.
[CAUTION: Test Converters use 2000-01, ±15 VDC and Splitters use 2000-02, +18 VDC Power Supplies.]
Some applications may require a Test Converter or Splitter product with a Wall Plug Power Supply (-P, -P4, etc.) The R1 to R3 Rack Mount Panels (depending on the quantity required) can be used to satisfy this requirement.
Some applications may require a single Power Supply with each Test Converter or Splitter product. The R2 Rack Mount Panel may be the best solution for this configuration.
The 2000-xx series Power Supplies can (typically) power multiple Test Converters or Splitters respectively. The number of, and configuration of, Test Converters or Splitters - combined with their respective Power Supplies - can vary widely, and may require any number of R1, R2 and/or R3 Rack Mount Panels to achieve the most effective ʻfootprint' solution.
Rack Mount Panels can be ordered separately or they may be ordered as an appendage to the Test Converter or Splitter Model # by simply appending a -R1 (or -R2, -R3) to the model number (2004-R1 is the single slot rack mount version of the 2004 Test Converter; 284-15-R3 is a 3 slot rack mount version of the 284-15 Splitter). Although the standard rack mount configuration is one unit in a 1 3/4" rack space (Option -R1), two (Option -R2) and three (Option -R3) of the 2000-xx series Test Converters or 284-xx series Splitters can also be mounted on a single panel (see diagrams below). Contact Cross to specify this when ordering the rack mount option.
Details
(View Our Datasheet)
Quote Request - Cross Series 2000/284 Rack Adapter
---