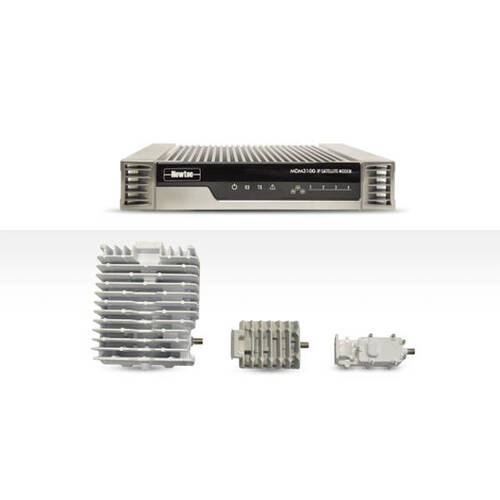 Overview
The Newtec modems can be combined with a performant ODU portfolio. The BUC's and LNB's have been selected to provide optimal performance. When selecting an outdoor unit, a tradeoff can be made based on two main criteria: peak rate and cost. Cost considerations involve the price of the full terminal, the cost of installation and ownership, and of course the price per Mbit. The Newtec modems support multiple waveforms that enable this tradeoff between cost and peak rate per application.
High Efficiency Output Power
Newtec modems always operate at the maximum output power supported by the waveform and the BUC. A waveform supporting saturation (e.g. 4CPM) can operate at the saturated output power of the BUC. Other waveforms operate at a power back off as close as possible to the saturated output power.
Low cost and low power Consumption
The efficient use of the BUC power enables the use of less powerful BUCs that are lower cost. Using a smaller, less powerful BUC also means using less electricity to power each terminal. With an average power efficiency of 5%, a difference of 1 Watt in the output power translates into a difference of 20 Watts of power consumption.
Ease Of Installation
The ODU Portfolio is compatible with Point & Play® easy-installation technology, enabling the installation of the complete terminal by installers without any specific qualification or expensive tooling.
Details
BUC SPECIFICATIONS
3W and 4W version Ku-Band
5W and 2W C-Band
3W KA-Band
Innovative design
Power efficient
Compact in size
Low distortion
LNB SPECIFICATIONS
Integrated LNB and TX Reject Filter
Dual oscillator
Superior phase noise performance
Quote Request - Newtec SAT3100 Satellite Terminal
---