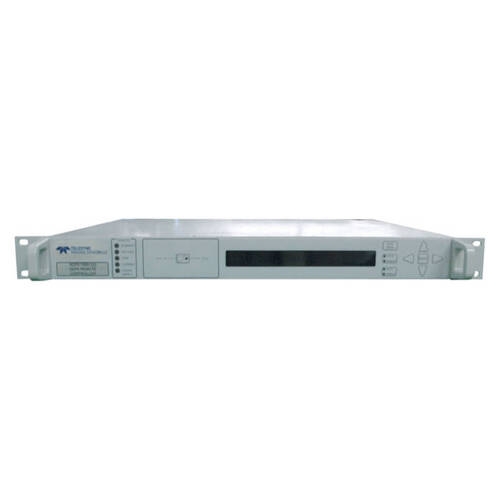 Overview
The Teledyne Paradise Datacom Remote Control Panel (RCP2-1000-CO) was designed to provide easy remote monitor and control of Teledyne Paradise Datacom's Compact Outdoor Solid State Power Amplifier.
Control of the RCP2-1000-CO can be handled through Front Panel operation, or remotely through Parallel or Serial communication to a remote computer.
The RCP2-1000-CO front panel includes ten LEDs that indicate the internal state of the Compact Outdoor SSPA. Five fault condition LEDs on the left side of the front panel indicate any SSPA major faults, in addition to a summary fault state.
A 2 line by 40 character front panel display provides an extremely user friendly interface. Virtually all of the controller's setup and adjustments are accessible from the display.
Four navigation buttons and a separate Enter key allow the user to navigate the firmware menu on the display. Separate buttons have been provided for frequently used functions.
Common feed interfaces are offered as standard and isolation is provided at all RF interfaces.
A range of RF hardware options is offered to meet specific system requirements.
Details
Menu Driven LCD for user friendly monitor and control
Front Panel or Remote Operation
2 line x 40 character display
Parallel I/O; Form C Contact Closure Outputs & Opto-Isolated Inputs
RS-232/485 Serial Interface for Remote M&C
Ethernet Port
1 Rack Unit height
Audible alarms
Removable power supply
Field programmable firmware
WindowsTM based remote M&C Software
Quote Request - Paradise Datacom Remote Controller for Compact Outdoor SSPA
---