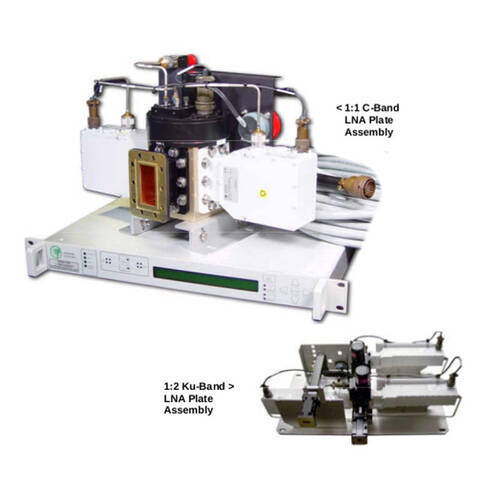 Overview
At the heart of all Paradise Datacom redundant LNA systems are the field-proven low noise amplifier product lines.
Available in all common C-, X- and Ku-Band frequencies, and offering state-of-the-art noise temperature performance, these LNAs can be configured for use in 1:1, 1:2 and custom redundant systems.
System monitoring and control is provided through the microprocessor-based RCP2-1100 and RCP2-1200 redundant system controllers.
LNA plate assemblies are designed for convenient integration into any antenna hub or facility with RF and user interfaces readily accessible.
Common feed interfaces are offered as standard and isolation is provided at all RF interfaces. A range of RF hardware options and custom plate configurations are offered to meet specific system requirements.
Details
Compact plate assemblies facilitate convenient antenna hub mounting
Standard feed orientations
State-of-the-art noise temperatures provided by Paradise Datacom LNAs
All LNAs contain integrated RF isolators
Quote Request - Paradise Datacom Redundant LNA Systems
---