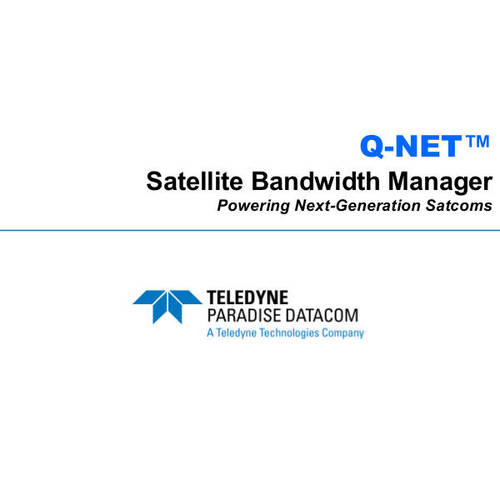 Overview
The problem is familiar. Service providers want to share bandwidth effectively and ensure links are highly efficient. Historically, this has required choosing between TDMA and SCPC solutions. Now, for the first time, Q-NET, an open, innovative, scalable, fully-featured satellite resource management system, resolves this age-old dilemma. It does this by using new technology that combines unparalleled bandwidth-efficiency with flexible carrier management, giving the best of both worlds.
Q-NET, when coupled with the best-in-class bandwidth efficiency of the Q-Flex satellite modem, delivers the highly variable throughput services that constantly changing traffic patterns demand. The Q-Flex modem embodies a new concept in satellite modem technology - a flexible software-defined modem based on a universal hardware platform that does what you want, now and in the future.
As well as bandwidth management, Q-NET provides full network infrastructure management of all resources and services, including system performance monitoring and both real-time and historical data analysis.
Details
Dynamic management of satellite bandwidth
Network infrastructure management
Scalable from small to large networks
Single central server with automated backup
Supports all network topologies
Sophisticated suite of web management tools for monitoring, control, analysis and reporting
Advanced IP features including encryption, acceleration, compression, ACM and traffic shaping
Per-traffic-stream full provisioning of quality of service
Leading bandwidth-saving technology
Leading network diagnostic tools including signal-under-carrier interference detection, spectrum monitors, constellation monitors, traffic analysers, etc
Optional redundancy system to ensure the highest levels of system availability
Customizable support packages to give you the level of support you need
Quote Request - Paradise Datacom Q-NET Satellite Bandwidth Manager
---