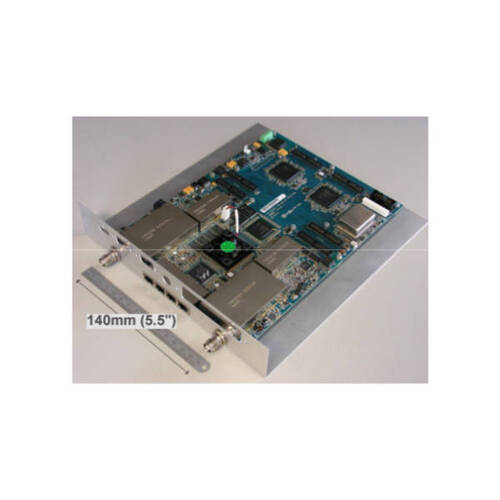 Overview
The Q-Lite is a compact, single-board satellite modem suitable for integration into custom enclosures for portable communications and comms-on-the-move.
The Q-Lite has been designed for simple mechanical integration into OEM products, being small in physical size and with very low power consumption. It is compatible with our Q-Flex and Quantum IP modems.
Monitoring and control of the modem is via Ethernet, with an option to fit a keypad and LCD display for local control. The Q-Lite can also be provided in a half-width chassis.
Details
Small form factor (255mm x 184mm)
L-band operation (950MHz to 2050MHz)
Data rates to 200Mbps
Optimized spectral roll-offs, including 5%
XStream IP advanced IP optimization suite including TCP acceleration, header & payload compression, dynamic routing, traffic shaping, encryption & ACM
DVB-S2/S2X, FastLink LDPC & TPC
24 Volt input power supply
25 to 33 Watt power consumption
Optional keypad/LCD display & fans
Optional L-band services (10MHz output, BUC/LNB PSU)
Optional 1U half-rack enclosure (half the width of standard 19" rack)
LinkGuard signal-under-carrier interference detection
Built-in spectrum & constellation monitors
DVB Carrier ID. Fully compliant with DVBCID standard
Q-NET Navigator network M&C application included as standard
Quote Request - Paradise Datacom Q-Lite Compact Satellite Modem Card Mobile Comms-on-the-Move OEM
---