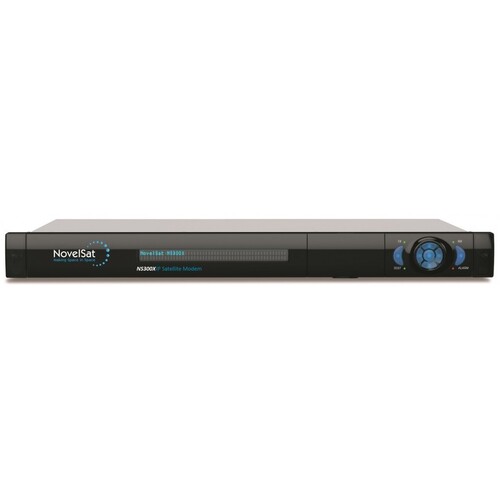 NovelSat NS300X IP Satellite Modem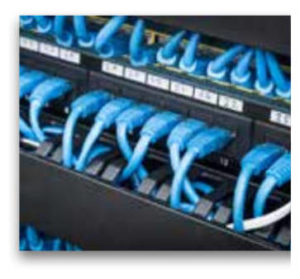 Optimal Low-Data Rate IP Communication
Applications
NovelSat is a technology company dedicated to providing the next-generation modulation standard for satellite communications. NovelSat supports DVB-S and DVB-S2, DVB-S2X and NovelSat NS4.
Technology
Cost-Effective for Low Data Rates
The NS300X modem includes built-in IP processing features to make data transmission more efficient and cost-effective. The NovelSat NS300X supports point-to-point and point-to-multipoint links and incorporates the NovelSat advanced high-efficiency NSPE2 encapsulation scheme. The NS300X integrated IP processing unit supports a wide range of features such as advanced QoS, transparent bridging (Layer 2), VLAN switching (Layer 2), routing mode (Layer 3) and TCP header and payload acceleration.
Equipped for data transmission, the NS300X comes with up to 4 E1/T1 interfaces for cellular backhaul and Gigabit 1000Base-T. It also has built-in hardware support for LDPC advanced FEC, NovelSat NS4 waveform and NovelSat DUET CeC (carrier-echo-cancellation).
Features
Scalable from 100Kbps to 60Mbps (30Mbps x2)
DVB-S2 (EN 302 307) & DVB-S2X compliant
DVB-S, DVB-DSNG (EN300-421, EN301-210) transmission compliant
Symbol rate 0.1-36Msps
NovelSat NS4 technology
Modulation: BPSK, QPSK, 8APSK, 16APSK, 32APSK, 64APSK
LDPC (Low Density Power Check)
Roll-off Filter: 5%, 10%, 15%, 20%, 25%, 35% with DVB-S, DVB-S2 and NovelSat NS4
NovelSat DUET CeC (carrier-echo-cancellation) technology – lowest implementation loss in the market
Dual Band Support (IF-Band 50-180MHz & Extended L-Band 950-2150MHz)
10-15dB stronger jamming immunity
Dynamic Distortion Compensation (DDC)
Optimized ACM mode
AUPC (Automatic Uplink Power Control)
IP Processing Enhancements
VLAN switching (Layer 2)/ Router mode (Layer 3)
NSPE IP Encapsulation
Advanced QoS (Quality of Service)
IP Transparent Bridging
Jumbo frame support
Header Compression
Internal WAN Acceleration (TCP, Payload Acceleration)
Gigabit Ethernet (GbE), Up to 4 E1/T1 Interfaces
SFP-(Additional GbE/Optical Interface)
Dual Channel Mode (2 IP channels in a single carrier)
24V/48V integrated BUC feeder
Supports N+1 redundancy
Secured transmission
Technology Agnostic Network Management System
Over-the-Air (OTA): Management & Control and Software upgrades
Compatible with all NovelSat satellite equipment (Modulators, demodulators, modems)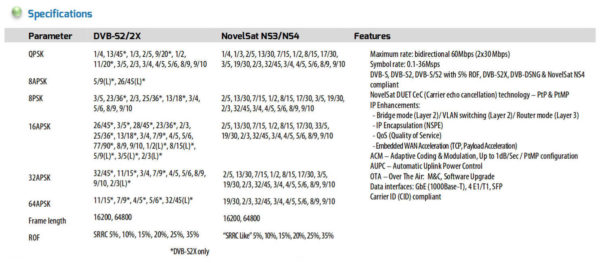 Quote Request - NovelSat NS300X IP Satellite Modem
---