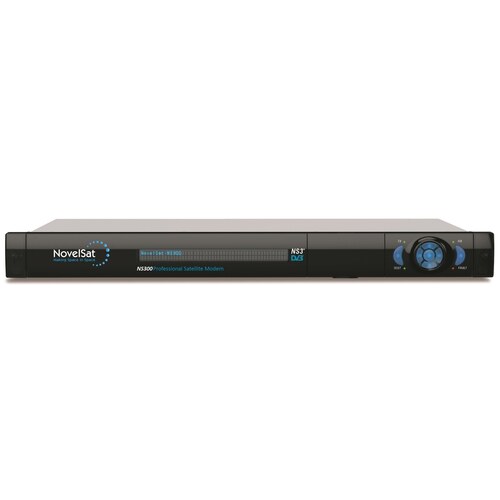 NovelSat NS300 Professional Satellite Modem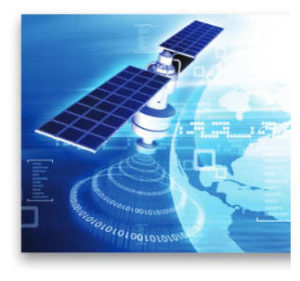 Cost-effective Satellite Data Transmission
The NovelSat NS300 Professional Satellite Modem is the natural choice for data applications that require satellite transfer rates of up to 30Mbps. In full duplex mode, the NS300 can simultaneously send and receive a total of 60Mbps per modem.
The NS300 is a member of the NovelSat Professional Satellite Modem series along with the NS3000 Professional High-Data Rate Satellite Modem (up to 850Mbps). Like the NS3000, DVB-S2 is the basic satellite transmission standard in the NS300 modem. The NS300 and all NovelSat equipment also support DVB-S, DVB-S2 with 5% Roll-off Filter (ROF), DVB-S2X* and NovelSat NS3
Built for Data Transmission
The NS300 modem includes built-in IP processing features to make data transmission more efficient and cost-effective. The NovelSat NS300 supports point-to-point and point-to-multipoint links and incorporates the NovelSat high-efficiency NSPETM encapsulation scheme. The NS300 integrated IP processing unit supports a wide range of features such as advanced QoS, transparent bridging (Layer 2), VLAN switching (Layer 2), routing mode (Layer 3) and header and payload acceleration.
Equipped for data transmission, the NS300 comes with 4 E1/T1 interfaces for cellular backhaul, 2 ASI interfaces for video and Gigabit 1000Base-T. It also has built-in hardware support for LDPC advanced FEC, NovelSat NS3 and NovelSat DUET CeC (carrier-echo-cancellation). All this makes the NS300 the ideal low-data-rate modem for cellular backhaul, IP trunking and other data services applications, not to mention a valuable asset for broadcasters' DSNG units.
Scalable Performance
The NS300 platform offers a wide range of performance boosting options including DVB-S2 with 5% ROF, ACM/VCM, AUPC (Automatic Uplink Power Control), Carrier ID (CID) compliance and Dual channel support for ASI & IP or two ASI data transmissions. All of these options work with both DVB-S2 and NovelSat NS3 configurations.
When you upgrade to NovelSat NS3 transmission technology, the NS300 typically boosts spectral efficiency by 40% to 60% compared with DVB-S2 equipment. NovelSat NS3 also adds superior resilience to jamming, interference, phase noise and weather fluctuations. For additional savings in operational costs, add optional NovelSat DUET CeC to double the bandwidth available on a single carrier.
These and other unique technologies give the low-cost, high-performance NovelSat NS300 Professional Satellite Modem the highest performance and most compelling ROI for businesses with satellite data transmission needs.
Applications
Contribution
Distribution
IP Trunking
Offshore
LEO
Technology
Cost-effective Satellite Data Transmission
Features
Scalable from 100Kbps to 60Mbps (30Mbps x2)
DVB-S2 (EN 302 307) & DVB-S2X* compliant
DVB-S, DVB-DSNG (EN300-421, EN301-210) transmission compliant
Symbol rate 0.1-25Msps
NovelSat NS4™ technology
Modulation: BPSK, QPSK, 8APSK, 16APSK, 32APSK, 64APSK
LDPC (Low Density Power Check)
Roll-off Filter: 5%, 10%, 15%, 20%, 25%, 35% with both DVB-S2 and NovelSat NS4
NovelSat DUET CeC (carrier echo cancellation) technology
Dual Band Support (IF-Band 50-180MHz & Extended L-Band 950-2150MHz)
10-15dB stronger jamming immunity
Optimized ACM mode
IP Processing Enhancements
VLAN switching (Layer 2)/Router mode (Layer 3)
NSPE™ IP Encapsulation
Advanced QoS (Quality of Service)
IP Transparent Bridging
Jumbo frame support
Header Compression
WAN Acceleration (TCP, Payload Acceleration)
Gigabit Ethernet (GbE), Up to 4 E1/T1 interfaces, SFP
2 ASI interfaces

Quote Request - NovelSat NS300 Professional Satellite Modem
---