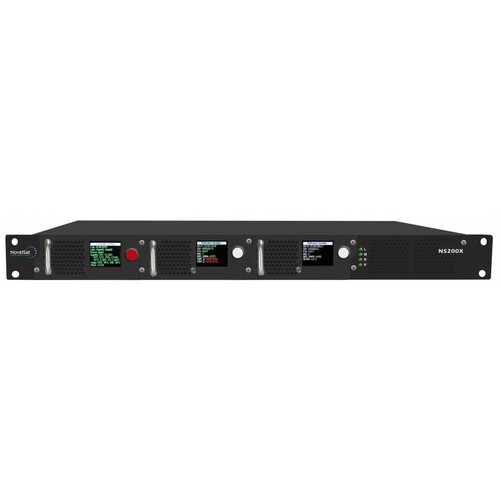 NovelSat NS200X Multi-Rx Channel Demodulator
Modular solution designed to grow with the needs of satellite broadcasters and data providers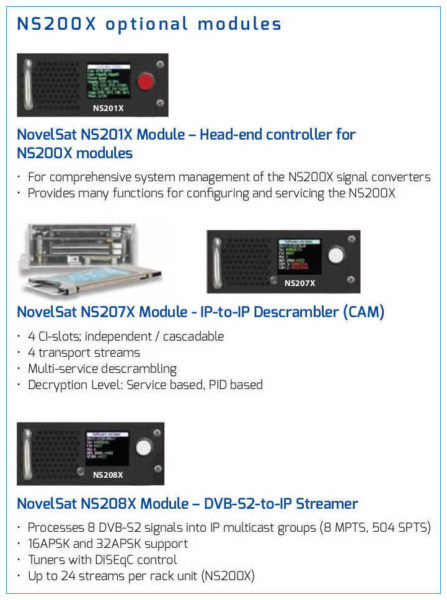 The NovelSat NS200X is a modular multi-Rx channel satellite demodulator designed to meet the needs of satellite broadcasters and data providers of all sizes. With up to three plug-in modules, it can contain up to 24 demodulators in a single 1U box, which can dramatically reduce rack space and maintenance resources.
For Broadcasters, the NS200X can also scale to support up to four Conditional Access Modules (CAMs), to decrypt multiple encrypted TV channels. The NS200X is capable of concatenating with additional NS200X units to support many more than 24 remotes at a Hub site.
A member of the NovelSat line of Professional Satellite Communication solutions, the NS200X has full interoperability with all other NovelSat products (Modulator, Demodulator, Modems and NMS). It is controlled and configured through an easy-to-use browser- based interface and can be monitored and updated over the air.
Applications
NovelSat provides the next-generation modulation standard for satellite communications to hundreds of global customers of all sizes across a wide range of markets.
Contribution
Distribution
IP Trunking
Offshore
LEO
Quote Request - NovelSat NS200X Multi-Rx Channel Demodulator
---