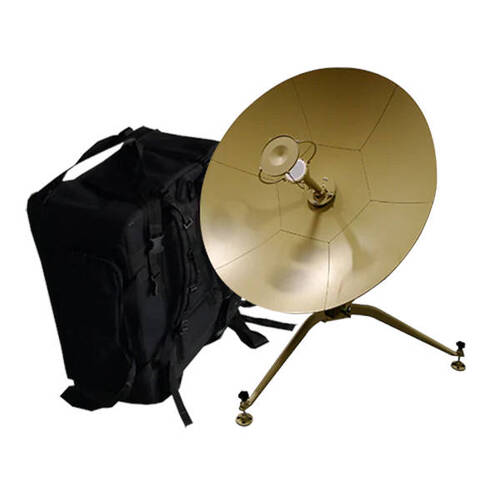 Journey Manpack
The Journey Manpack is the latest in Norsat's series of ultra-portable satellite terminals designed for military and commercial applications. The Journey Manpack is the highest performance "one case" solution in the industry. With IATA compliant packaging and tool-free assembly, the Journey Manpack offers a 0.9m aperture size and provides:
Unmatched durability
Maximum portability
HD video and IP transmission
4+ hours continuous runtime with battery pack
Portable and Reliable
The Journey Manpack is a highly integrated complete solution including a compact, segmented antenna system, BUC, LNB, optional modem, comprehensive alignment tools, and a single backpack. The Journey Manpack weighs less than 18 kg (40 pounds) and is ideal for military Special Forces and government applications that require maximum portability.
Intelligent
The Journey Manpack is optionally equipped with Norsat's Satellite Acquisition Assistant (SAA) that provides everything necessary to easily point, peak, and acquire a satellite. Tools included in the SAA package include:
Spectrum analyzer
GPS
Inclinometer
Compass
Narrow Band Power Meter
DVB/S2 receiver
LinkControl software
Tough
The Journey Manpack is MIL-STD-810G compliant and has been built to operate in harsh and hostile environments. All of Norsat's portable satellite terminals are designed for durability and to withstand tough military applications.
Quote Request - Norsat Journey ManPack 0.9 m Ku-Band Manual Acquire Antenna
---