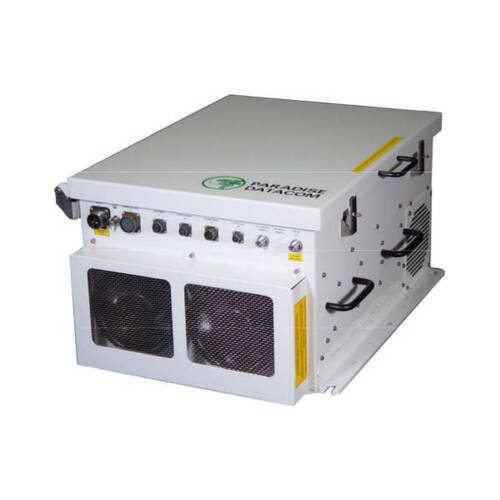 Overview
Teledyne Paradise Datacom's High Power Outdoor (W) series SSPAs represent the latest in High Power Microwave Amplifier Technology. The SSPA package achieves the highest power density in the industry along with enhanced maintainability.
All subassemblies are accessible and replaceable in the field. Local, front panel, control is available with a user friendly interface. A full compliment of serial and parallel (contact closure) control is also available via circular connectors.
A state of the art thermal platform provides efficient cooling for the amplifier module and power supplies. This ensures the highest possible MTBFs for microwave power amplifiers.
Along with high reliability comes the ultimate in amplifier maintainability. Amplifier modules and power supplies are easily accessed and removed, making this one of the easiest amplifier assemblies to maintain in the field.
Details
Extremely High Power Density:

500W X-Band
600W C-Band
250W Ku Band

Field Replaceable Subassemblies
RF Output Sample Port
Ethernet Port
20 dB Gain Adjustment
Built-in 1:1 Redundancy Control
Built-in Maintenance Switch Controller
Quote Request - Paradise Datacom NEMA Weatherproof SSPA
---