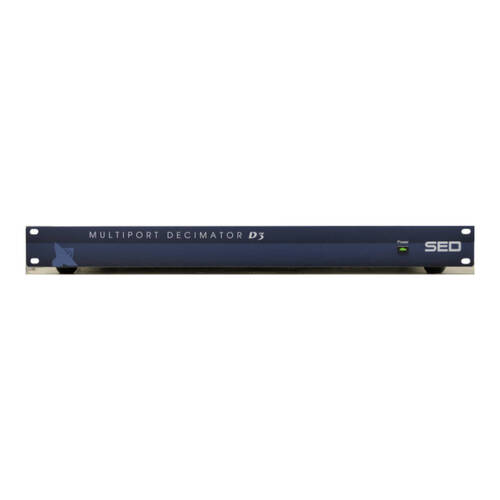 Overview
Ideal for local or remote monitoring of multiple communications or broadcast carriers in satellite, cable or terrestrial wireless networks, the Multi-port Decimator is a cornerstone in the Decimator digital spectrum analyzer product line.
The 1U rack-mount unit is small and convenient for installation in equipment racks with connection to multiple feeds, either 50-ohm or 75-ohm. For applications requiring fewer input ports, the 4-Port Decimator saves you money upfront, and is easily upgraded in the future to an 8-Port Decimator should you require additional input ports. Simply pay the difference for a software upgrade without installing additional hardware. Both units provide a built-in Cross-Pol Isolation measurement function and Carrier Monitoring capability. It is operated like a traditional spectrum analyzer, with a browser-based user interface that is intuitive, familiar, and useable right away with no training.
The 4-Port Decimator is also ideal as a replacement for the now obsolete Tektronix 1705 spectrum monitoring unit.
Details
8 user selectable input ports
covers full satellite L-band plus cable and wireless bands from 5 MHz to 3 GHz
built-in Carrier Monitoring and Cross-Pol Isolation functions
External 10 MHz reference or internal reference
Web browser or API control
SNMP status interface
Standard 19" 1U Rack Mount Chassis
available as 4-Port unit
(formerly SED Systems)
Quote Request - SED Multi-Port Spectrum Analyzer
---