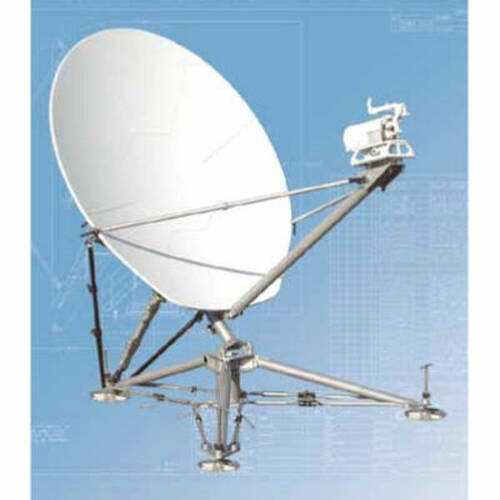 Overview
The General Dynamics SATCOM Technologies lightweight 1.8-meter SF antennas are designed for worldwide transmit and receive operation in C, X, Ku and Ka band. These portable antennas consist of composite reflectors and aluminum tripod base mounts. This results in a low-weight antenna with superior stiffness and high performance under wind loading conditions.
The unique shape and the accurate reflector surface provide good sidelobe and cross-polarization performance. Repeatability is maintained with precision registration of the nine-piece reflector segments and the feed support structure.
The complete 1.8-meter antenna system, including a single feed, is packaged in multiple portable cases depending on options ordered.
Details
Carbon fiber composite reflector
Tripod base mount
Less than 30-minute setup
Captive hardware/fasteners
No tools required
Quick adjust positioner
Intelsat/Eutelsat sidelobe compliant (C and Ku band)
Feed boom supports up to 40 lbs. for amplifier mounting
Lightweight transport cases
Quote Request - CPI Model 1.8m SF Antenna
---