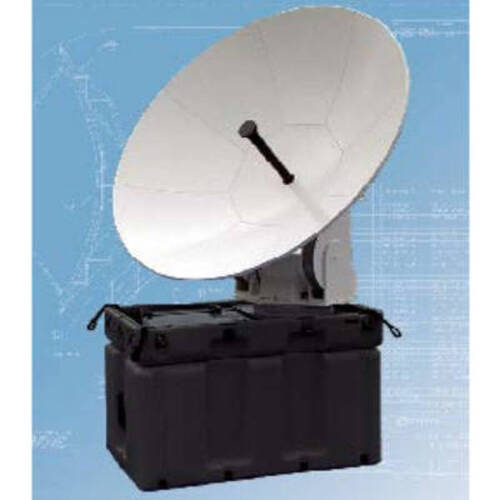 Overview
The ultra-lightweight General Dynamics SATCOM Technologies 1.2-meter Quick Deploy Motorized AutoAcquire (QDMA) Antenna is designed for worldwide transmit and receive operation in Ku, Ka and X-band. This portable antenna consists of a segmented composite reflector and motorized positioner mount. This configuration results in an extremely low-weight and packable antenna product with superior stiffness and high performance under wind loading conditions.
The unique optical shape and accurate reflector surface provide good sidelobe and excellent cross-polarization performance. Repeatability is maintained with precision registration of the nine-piece reflector segments and RF components. The antenna can be quickly assembled by one person in less than ten minutes. The auto-acquire controller can find the correct satellite and optimize co-pol and crosspol performance with the push of a button. The antenna controller can be configured as a multi-functional device combining several options such as external GUI, monitor and control, spectrum analyzer and tracking.
The 1.2m QDMA antenna system, including a Stepped Ring Focus (SRF) feed, is packaged in one or two transit cases (depending on options ordered). The transit cases, designed to be shipped via commercial air cargo, feature wheels and suitcase handles to ease relocation by one person.
Details
Carbon fiber reinforced polymer (CFRP) reflector
Captive hardware/fasteners
No tools required for assembly or deployment
Superior cross-pol and side-lobe performance
Extremely low loss RF component mounting
One button acquisition
Internal GPS receiver
Quote Request - CPI Model 1.2m Quick Deploy Motorized Auto-Acquire Antenna
---