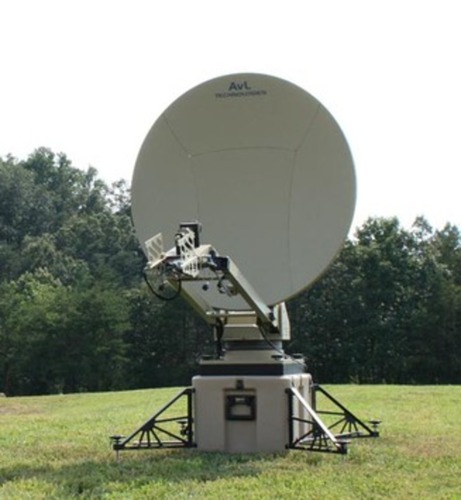 Overview
AvL's 1050FA case-based positioner FlyAway SNG/Mil antenna systems offerenhanced-wind tolerance witha compact, rugged and portable package. The 1.2m antenna systemspack into two rugged cases to be shipped anywhere, then set up and operational within minutes.
AvL's FlyAway SNG antennas are designed to meet and exceed the highest performance requirements around the world to guarantee both satellite authority compliance and peak in performance, reliability and availability.
Each Flyaway Antenna is priced to include the AvL carbon fiber antenna and auto-acquisition controller for ease of operation. As with all AvL antenna systems, no laptop is necessary to operate the controller, the antennas interface with any modem, RF electronics, or satellite service.
Details
Enhanced wind tolerance of 45 mph gusting to 60 mph for Ku operation
Packs into two rugged cases
1.2m segmented 4-piece AvL carbon fiber reflector with optional (1.4m) extender panels
Available in Ku- (precision or mode-match), X- and Ka-band for commercial or military applications; upgradable to L-Band
Motorized AvL Cable Drive for reliable positioning
One button auto-acquisition controller
Interfaces with all types of RF electronics and satellite services
The 1.2m 1050FA FlyAway SNG antenna family includes the following models:
Model 1.2m 1050FA is a tri-band Ka, Ku or X-band antenna system that packs into two cases, and the positioner is integrated into one case. The 1.2m reflector is expandable to 1.4m with attachable segments for X-band communications
Model 1.2m 1050-T is a tri-band antenna system with tripod configuration
Quote Request - AvL Model 1.2m 1050FA SNG/Mil Tri-Band Motorized FlyAway Antenna
---