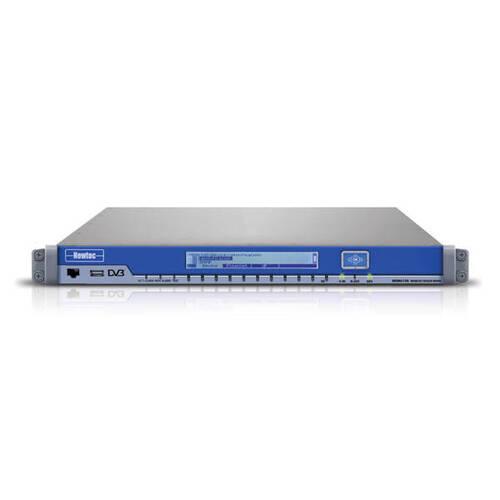 Overview
Flexible and latest generation technology
The MDM6100 Broadcast Satellite Modem is a future-proof building block that lets any satellite network evolve to the next level of capabilities.
Migration of standard distribution links towards DVB-S2X can be as simple as inserting an MDM6100 modem in the head-ends while keeping the installed base of IRDs.
Support of the latest and most efficient DVB-S2X standard
Highest system reliability and service uptime through robust design and industry leading redundancy solutions
Low total cost of ownership as a result of very high bandwidth efficiency technology options, and ease of monitoring and control
Clean Channel Technology® provides up to 15% bandwidth efficiency gains on top of the DVB-S2 standard
Equalink® 3 pre-distortion provides up to 10% bandwidth gains, higher QoS or geographic coverage
Built-in support for opportunistic data insertion, interoperable with IRD's that support Multi Protocol Encapsulation (MPE)
Easy integration with industry leading management systems (EMS/NMS/OSS)
Safe investment as the platform supports advanced capabilities such as proMPEG FEC on inputs and outputs , built-in transport stream analyzer and DVB & NIT Carrier ID
Pay-as-you-grow flexible licensing scheme
Future-proof design combining video and IP multi-service capabilities, supports transport of today´s and tomorrow´s services
Dedicated Graphical User Interfaces for single stream (MDM6100 R2.8) and multistream applications (MDM6100 R2.1).
Details
DVB-S2X, DVB-S2 and DVB-DSNG/S compliant
QPSK, 8PSK, 16/32/64/128/256APSK
Baud rate range: 256 kbaud – 72 Mbaud
Data rates up to 425 Mbit/s (in multistream mode)
Data rates up to 216 Mbit/s (in single stream mode)
Exceptional jitter recovery on TS over IP inputs
Automatic rate synchronization on TS over IP inputs
Built-in TS Analyser with PCR jitter measurements and monitoring of critical ECM/EMM messages
RFI reduction using optional DVB RF Carrier ID (DVB-CID) and NIT table CID (default)
Optional BISS Content protection
Optional redundant ASI transport stream interfaces
Redundant GbE interfaces with SMPTE 2022-1/2 FEC error correction
SMPTE 2022-1 protection on TS over IP outputs
Built-in source redundancy, supporting any redundant IP network configuration
MPE decapsulator and optional encapsulator
Accurate link margin monitoring through the use of NoDE Noise& Distortion Estimator tool
External reference input
IF (70/140) and L-Band (950-2150) high power outputs
Optional integrated RF upconverter (Ku-band or C-band)
L-band monitoring output
Market leading RF purity and performance
Clean Channel Technology®
Optional linear and non-linear Equalink® 3 Pre-distortion
Flexible and latest generation technology
Quote Request - Newtec MDM6100 Broadcast Satellite Modem
---