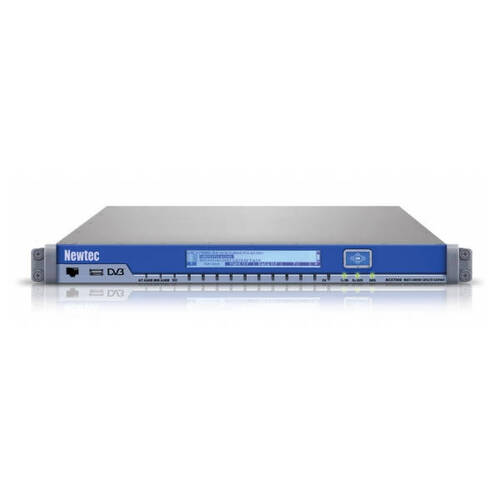 Overview
Main advantages
The Newtec MCX7000 is a new dense DVB-S2X multi-carrier satellite gateway for efficient distribution to towers and headends, or for use in back-up or dense DTH HUB stations, resulting in OPEX and CAPEX savings. This 133 Mbaud modem is also fit for broadcast contribution applications on standard and HTS spotbeam transponders.
Compatible with the Newtec Dialog® multiservice broadcast platform, it brings increased bandwidth efficiency of up to 51% and features multistream, as well as Newtec's Clean Channel Technology® and its linear and non-linear pre-distortion technology Equalink® 3.
Building upon the MDM6100 Broadcast Satellite Modem software suite, the enhanced hardware platform of the MCX7000 extends the modem capabilities beyond single carrier support. In a multi-modulator configuration, four 133 Mbaud carriers acc. DVB standards up to DVB-S2X can be generated. In a first releasemulti-demod modem configuration, three 133 Mbaud carriers can be demodulated, next to modulation of a 133 Mbaud signal with full support of the DVB satellite standards up to DVB-S2X. Each and every Transport Stream embedded in one of the received carriers can be output on one of the six (optional) ASI or dual Ethernet ports. The same data interfaces can be used as input ports for the modulator. Transmodulation of a received stream is also an option.
Its remote in-band management and software upgradeability makes it the receiver equipment of choice for remote unattended towers and headends. Subsequent releases of this future-proof DVB-S2X platform guarantee, by simple software upgrade, even increased functionality and higher density.
Details
Maximum configurations:
- 4 x DVB-S2X carrier modulator
- 3 x DVB-S2X carrier modulator with optional ASI interfaces
- 2 x DVB-S2X carrier modulator and one demodulator with optional ASI interfaces
- 3 x DVB-S2X carrier demodulator (with dual L-band input)
- 2 x DVB-S2X carrier demodulator with one modulator and optional ASI interfaces
Minimum symbol rate: 256 kbaud
Maximum symbol rate: 133 Mbaud
Data rates up to 425 Mbit/s
IF (70/140) and L-Band (950-2150) high power outputs
Very high bandwidth efficiency, ease of monitoring and control leads to Low Total Cost of Ownership
- DVB-S2X, DVB-S2, DVB-DSNG/S compliant
- QPSK, 8PSK, 16APSK, 32APSK, 64APSK, 128APSK and 256 APSK
- Up to 15% bandwidth gain with optional Equalink® 3 pre-distortion
- Up to 15% bandwidth efficiency gains (on top of DVB-S2) with Clean Channel Technology®
- Multistream CCM or VCM mode with ISSY
Highest system reliability and service uptime
- Redundancy with main TS over ASI and back-up TS over IP input
- Built-in TS Analyser with PCR jitter measurements
- RFI reduction using optional DVB RF Carrier ID (DVB-CID) and NIT table CID (default)
- Market leading RF purity and performance
- PRBS generator for link performance tests
Remote in-band management
Remote over-the-air software upgrade
Optional 4 x MPE encapsulators / decapsulators up to 70 Mbps
Optional AES encryption / decryption up to 140 Mbps
Optional BISS scrambler/descrambler up to 130 Mbps
Quote Request - Newtec MCX7000 Multi-Carrier Satellite Gateway
---