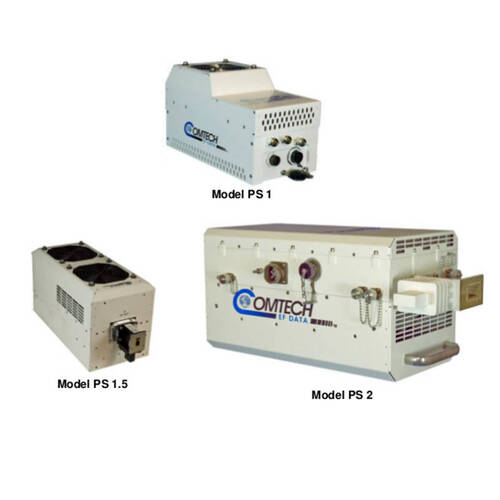 Overview
Comtech EF Data's extensive experience in the design of outdoor RF transceivers led to the LPOD family's efficient thermal and mechanical package. Recognizing the evolution of L-Band IF systems, the LPOD is designed to eliminate the traditional requirement for the modem to supply a DC power source and a 10 MHz reference to the BUCs and LNBs. The LPOD's optional internal reference and LNB bias T greatly simplify multi-carrier operation and provide cost-effective redundant solutions. The LPOD offers valuable features not found in other L-Band BUC products.
Details
Redundancy - Another challenge addressed by the LPOD topology is the increasing need for redundant L-Band RF solutions. With its internal power supply, internal reference and internal LNB bias capability, the LPOD offers a very cost-effective solution for 1:1 redundant TX and 1:1 redundant RX requirements.
Integrated Power Supply - All LPOD models have a self-contained power supply. This eliminates the requirement for the modem to supply the BUC voltage on the center conductor of the RF cable, simplifying multi-carrier operation and modem spares maintenance.
Data Logging Capability - To greatly enhance system maintainability, the LPOD line includes a built in data logging capability. By recording critical operational parameters (such as temperature, output power, mute status, etc.) at time stamped intervals, the user can quickly gather intelligence not only about the unit itself, but also the unit's operational environment.
Advanced FSK - The LPOD, when used with Comtech EF Data modems, provides valuable additional functionality utilizing the industry standard FSK communications channel. This feature offers full control of single thread and redundant systems from the modem front panel without additional cabling or cost. The LPOD can also be accessed from the Ethernet port of the modem and controlled via Embedded Distantend Monitor and Control (EDMAC).
Hand-Held Controller Devices - A variety of hand-held controller devices are available. These include the LPODnet M&C Accessory Kit and the CLC-10 M&C Accessory Kit. Both are designed to access the monitor and control functionality of the LPOD family of products.
Quote Request - Comtech LPOD C-, X- or Ku-Band Block Up Converter (BUC)/SSPA
---