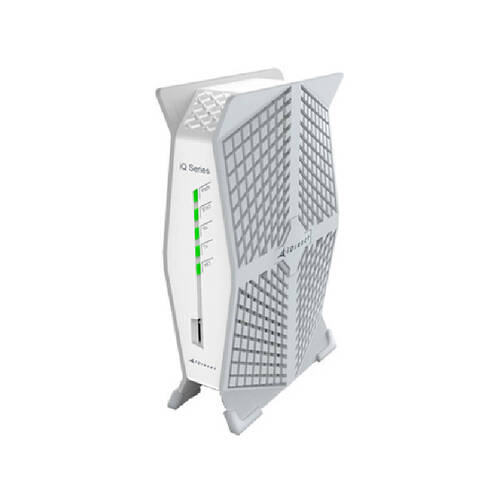 iQ Desktop Satellite Modem
Overview
The iQ Desktop is part of ST Engineering iDirect's DVB-S2/S2X modem series based on a software-defined architecture for maximum flexibility and expansion. The series is compatible with both Evolution® and Velocity®, features high performance and efficiency for fixed and mobility networks so you can effortlessly meet demanding service levels and build out large networks with greater speed and reduced costs.
The iQ Desktop features dual Gigabit Ethernet VLAN-aware networking ports and a very small form factor ideal for prosumer, broadband access, and small enterprise site networks supporting a large range of applications including Internet/Intranet access, Voiceover-IP (VoIP), video streaming, and multicasting. The iQ Desktop can reach throughputs up to 200 Mbps when being used in L2oS mode and is compatible with a variety of ODU configurations. High performance modulation techniques enable network operators to offer various throughput intensive services. The modem's ease of installation allows service providers to deploy their services quickly, in a cost-effective way.
The iQ series modems are also available as a 1U rackmount or board level product.
Features
DVB-S2 (up to 45 Msps) / DVB-S2X (up to 100 Msps) outbound
DVB-S2X MODCODS up to 256APSK
Adaptive TDMA up to 7.5 Msps, 16QAM modulation
256-bit AES Link Encryption
Easy to use and install with remote commissioning systems
Layer 2 and Layer 3 Optimized
Markets
Quote Request - iDirect iQ Desktop Satellite Modem
---