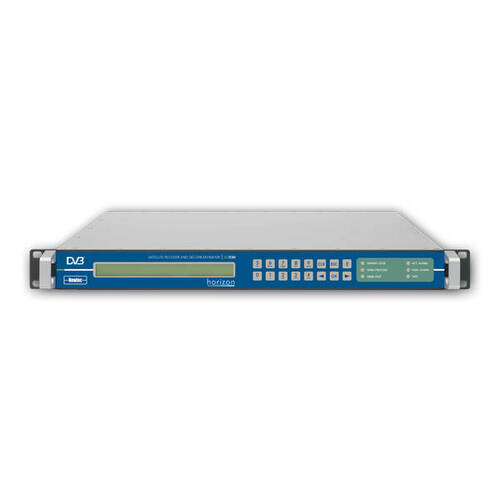 Overview
Main advantages
Lower operational costs thanks to effi cient use of transmission bandwidth
Cost-eff ective and easy to implement technology compared to traditional multiplexer solutions
Protection of the data content against unauthorized access by other parties.
Transparent and efficient transport of content are key elements for each player in the primary distribution of terrestrial and mobile TV. The HZ930 makes use of the innovative proprietary concentration technology by Newtec. This technology combines up to 8 MPEG Transport streams into a single stream without changing their content. The resulting stream remains compatible with MPEG/DVB transmission equipment such as modulators or ATM interfaces.
The HZ930 supports both DVB-S and DVB-S2 modulation standards and allows deconcentration up to 4 ASI streams. The mapping between the streams and the outputs is fully programmable, enabling the use of the HZ930 as a matrix router to send Transport streams to various access points in a network. A descrambling feature has been added to protect each stream individually against piracy.
Details
Demodulates DVB-S or DVB-S2 signals
Deconcentrates the bundled Transport streams into 4 individual ASI streams
Fully transparent and effi cient transport of content
Compliant to SFN requirements
Independent descrambling of each individual Transport stream
Matrix routing of the Transport stream outputs
Optional 10 MHz reference input/output
Quote Request - Newtec HZ930 Satellite Receiver and Deconcentrator
---