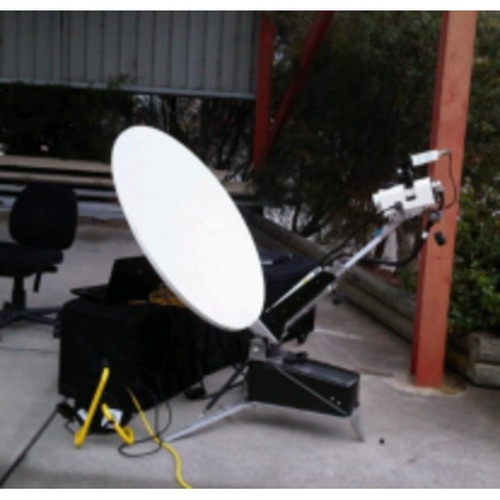 CF100v - 1.0m Segmented VSAT Flyaway
The CF-100 Rapid Deploy antenna from Holkirk is designed to be operated by soldiers, first responders or broadcast correspondents in any of today's increasingly demanding environments and reliably transmit from anywhere in the world.
With a proven track record the CF-100 antenna provides intuitive, rapid and accurate satellite acquisition in a light weight but flexible and robust package in X, Ku, DBS or Ka bands with the ability to change parameters rapidly, midmission.
With its rugged ability to operate in all weathers, transmitting at maximum bandwidth with the option to change frequency or move location rapidly the CF-100 offers maximum flexibility and value for money.
One person can easily transport and set-up the system achieving operational level within a few minutes, simply and without needing any tools.
The light weight but sturdy layout allows for a massive degree of terrain inclination and includes a truly versatile HPA cradle which can accommodate a wide range of high power, 3rd party amplifiers, interchangeable in seconds as either a power variant or a complete frequency band change.
With a wide variety of ruggedized electronics available to customise your mission the CF-100 is adaptable to you.
Features
1.0m High accuracy carbon fibre reflector
Less than 5 mins from case to lock
Fully auto-pointing
No assembly tools required
X, Ku, DBS & Ka bands
Quick change RF chain
Manual over rides on all 3 axis
Quick connect waveguide couplers
Accessories
Manual jog, auto-acquire or inclined orbit tracking controller
RF mounting options
High stability LNB
Sand Shoes
Quote Request - Holkirk CF100v 1.0m Segmented VSAT Flyaway
---