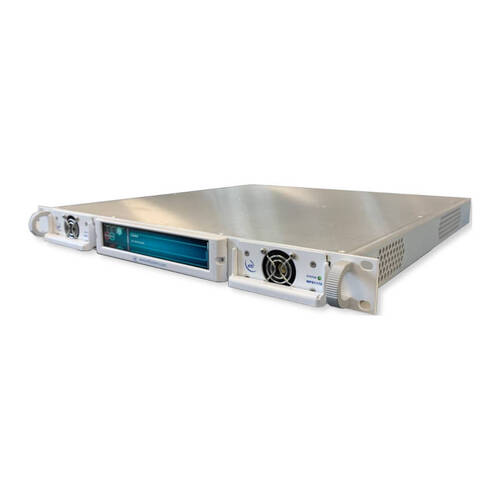 Genus 1U Modular RF Distribution Chassis
Overview
Model GNS-101-1U Genus 1U chassis has a modular design which can house any combination of compatible modules within the unit. Supplying operators with a flexible and scalable solution, that reduces spare parts and rack space requirements.
HIGH DENSITY - The 1U Genus RF distribution chassis accommodates up to 17 RF modules, which can be all or a mix of Amplifiers, BUC/LNB Power Supply's, Frequency Converters, Matrices, RF Over Fibre, Redundancy Switches and Test Loop Translators. Providing a compact 1U system which is smaller in comparison with 2U, 3U, 4U or more to achieve the same functionality. The Genus chassis provides a cost-effective solution with field-replaceable components.
FLEXIBLE - The active chassis components (dual redundant hot-swap power supplies and field replaceable RF modules, HMI and CPU) can be inserted whilst the shelf is in service, giving excellent levels of flexibility and resilience.
RESILIENT - The Genus chassis benefits from dual redundant, hot-swap power supplies, field serviceable RF modules, HMI, CPU and optional user replaceable internal and external 10MHz reference source.
SECURE - The new generation modular chassis offers improved security protocols with SNMPv3 and HTTPS. Remote control and monitoring is provided via RJ45 Ethernet port with SNMP and web browser interface.
The chassis is 1U high x 550mm deep x 19" wide shelf and is available in the impedances and connector types shown below.
Features
The 1U Genus is a new generation modular chassis for the ground segment, to meet today's and future ground segment V/HTS requirements. The chassis provides flexible signal management for teleport operators in a compact housing.
Teleports, ground stations, maritime, LEO gateways, high resilience applications and unmanned sites
High resilience RF distribution where single points of failure can be minimised
Redundancy applications for remote satellite teleports
V/HTS gateways
Signal distribution: Amplifiers, BUC/LNB Power Supply's, Frequency Up & Down Converters, Matrices, RF Over Fibre, Redundancy Switches, Test Loop Translators are available
Quote Request - ETL Genus 1U Modular RF Distribution Chassis
---