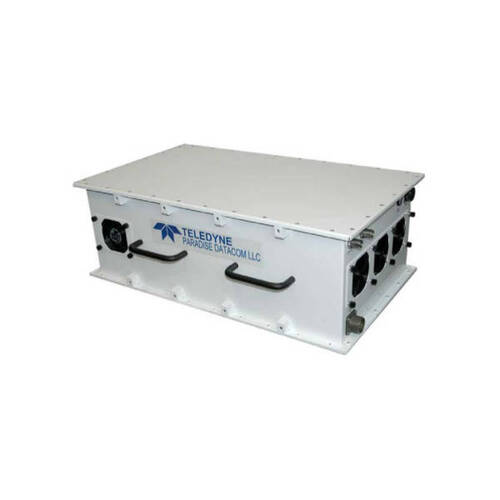 Overview
Teledyne Paradise Datacom's newly packaged High Power Outdoor (H) series of Solid State Power Amplifiers is packaged with the latest Gallium Nitride, GaN, based SSPA modules. Utilizing the latest in linearized GaN amplifier module technology, the High Power Outdoor enclosure can achieve the highest power densities in the industry. By utilizing an all GaN semiconductor design along with proprietary linearization techniques, the High Power Outdoor amplifier simultaneously provides excellent linear output power along with industry leading efficiency.
A robust thermal platform and mechanical design make the High Power Outdoor package one of the most reliable outdoor high power amplifiers, HPA. Teledyne Paradise Datacom outdoor amplifiers are designed and tested to many of the MIL-STD-810 environmental conditions.
All Teledyne Paradise Datacom SSPAs have a full complement of local and remote control capability. The remote control capabilities include: RS485/RS232 serial control, Ethernet including SNMP, UDP, and internal web browsing. Discrete hardware control, Form C contact alarms and opto isolated inputs are also included.
Details
Extremely High Power Density:

to 1.0 kW S-Band
to 800 W X-Band
to 800 W C-Band
to 500 W Ku-Band

RF Output Sample Port
Remote Communication via RS232/485 or Ethernet
20 dB Gain Adjustment
Built-in 1:1 Redundancy Control with 'Cold' Standby capability
Built-in Maintenance Switch Controller
Quote Request - Paradise Datacom GaN High Power Outdoor
---