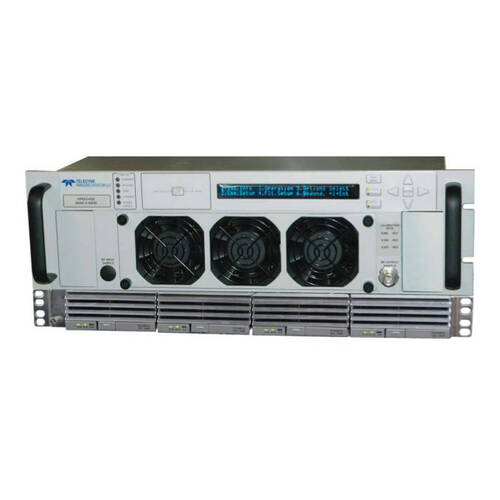 Overview
Teledyne Paradise Datacom's Indoor, Compact Rack Mount (CRM) series Solid State Power Amplifiers represent the latest in High Power Microwave Amplifier Technology. The SSPA chassis achieves the highest power density in the industry along with enhanced maintainability.
The power supply, fan trays and controller card connector plate are all removable for easy maintenance. At 24" deep, and only 3RU high, this chassis is perfect for SNG applications, or other configurations where rack space is at a premium.
The SSPA front panel features an easy-to-navigate display and menu structure. Dedicated LEDs are provided for alarm condition indication.
Details
Power Levels to: 300W C-Band; 200W X-Band; 150W Ku-Band
Removable Power Supply, Fan Tray and Monitor & Control Assembly
Ethernet Port
RF Output Sample Port
20 dB Gain Adjustment
CE Compliant
Universal, Power Factor Corrected Power Supply
Built-in 1:1 Redundancy Control
Built-in Maintenance Switch Controller
Quote Request - Paradise Datacom GaAs 3RU SSPA Chassis
---