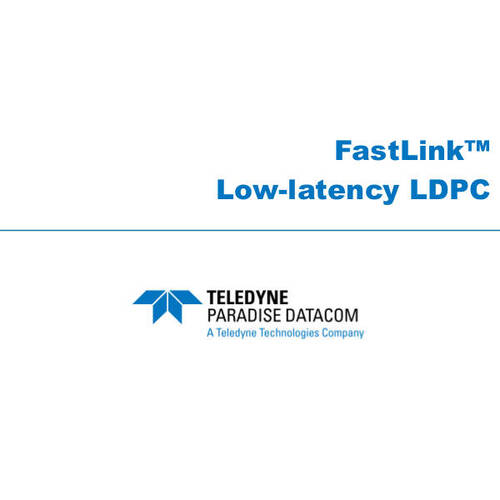 Overview
FastLink LDPC is a low-latency Low Density Parity Code FEC from Paradise designed specifically for latency-sensitive applications.
The performance of traditional forward error correction schemes represents a trade-off between latency and coding gain. FastLink LDPC has been designed by Paradise engineers from the ground up to optimize latency and throughput while giving coding gain that is close to the theoretical limits.
FastLink LDPC has better or comparable latency and coding gain performance relative to conventional LDPC and TPC, meaning potentially that no other FEC may ever be required.
Details
Operation from 18kbps up to 100Mbps
Supports symbol rates from 18ksps up to 40Msps
Modulation: BPSK, (O)QPSK, 8PSK, 8QAM, 16APSK, 16QAM, 32APSK and 64QAM
Ultra low latency for latency-sensitive applications
Reduction in latency of up to 90% compared to DVBS2
Outstanding coding gain
Replaces TPC and conventional LDPC
User configurable - optimize latency, BER performance or both
FastLink LDPC is available on all Evolution and Quantum modems and on most Q Series modems (including the Q-Flex and Q-Lite)
All modulations and all data rates up to 100Mbps supported for a single, low price (Q Series only)
New, second-generation implementation with enhanced performance!
Quote Request - Paradise Datacom FastLink LDPC
---