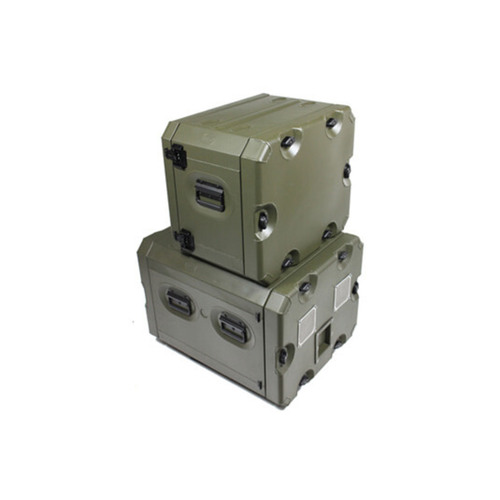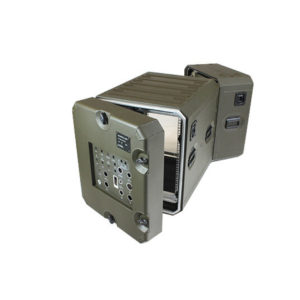 ERack
ERack is a lightweight, 19-inch ruggedized aluminum electronic transit rack, specifically designed for commercial and military applications when protection against physical, climatic and electromagnetic hazards are required, and where weight, strength and portability are critical issues.
ERack is up to 30% lighter
ERack benefits from patented new technology. The external container has an innovative folded rim design, which eliminates the edge extrusion and makes the case stronger, lighter and more resistant to ingress by water and dust. The internal chassis frame is supported by special mounts which protect against shock. ERack is up to 30% lighter than other rack cases in its class.
ERack has access to the front and rear 19-inch chassis via precision manufactured interchangeable lids. Each lid is secured to the rack body by front mounted quarter turn latches (allowing front and rear access when stacked).
Positive location between lids and body is achieved by ERack's unique male/female extrusions which incorporate a design copyright silicon seal giving all weather protection to IP65.
ERack's unique 19-inch chassis design is constructed from aluminum alloy-coated with Iridite Non-Chrome Passivization (NCP), delivering enhanced lightness and rigidity. The chassis is mounted on eight elastomeric mounts, fixed to the outer casing by robust anchor plates, which are focused towards the center of mass of the case, ensuring the electronic equipment is protected against vibration and impact.
ERack's suspended inner chassis can move up to 2″ independently of the outer container, and in any direction. An earthing / grounding strap is fitted to maintain conductivity between the equipment and the outer container.
Features
Incredibly lightweight.
Innovative, patented, folded rim design instead of a welded or riveted extrusion.
Increased sway space to facilitate up to 1″ of internal thermal insulation.
Fully-rounded corners for friendlier handling.
Quote Request - ERack 19 Inch Case
---