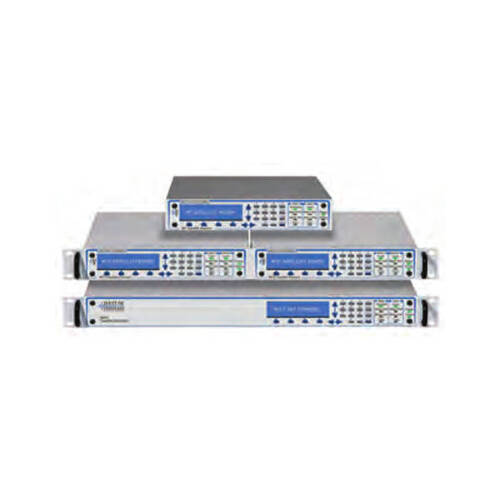 M7 L/LT L-Band Sat-Modems with M70 / D70 High Speed DVBS2X card sets
Datum Systems introduces advanced DVB-S2/S2X capability in the M7 series. This product combines state-of-the-art performance in a platform that is versatile, compact, highly efficient, and costs less to own and operate.
DVB-S2 and DVB-S2X Capability – Datum now offers DVB-S2 and DVB-S2X capability. The M7LT with M70 / D70 Cards allows optimized operation with the most efficient satellite data transmission solution. Datum supports both DVB-S2 modulation and also the recently standardized DVB-S2X extensions. DVB-S2X significantly improves satellite capacity by using much finer steps between modulation coding combinations (modcods) and allowing Filter Roll-Off options down to 5%. DVB-S2X can improve spectral efficiency up to 50% over DVB-S2. Datum features Symbol Rates up to 72 MHz to allow full utilization of wide transponders with data rates up to 350 Mbit/s. This configuration supports Filter Roll-Offs of 5%, 10%, 15%, 20%, 25%, 30%, 35% compliant with the standards. See our Advanced Filter Shaping White Paper for more information on the advantages of Low Filter Roll-Off.
Adaptive Coding & Modulation (ACM) – Datum's M7LT fully supports ACM. This is the capability of a pair of modems to adjust their modcods to the best available case for the satellite link conditions. ACM works for the cases where the data rate can be variable. This is a perfect fit for Ethernet operation. Satellite links were historically backed off significantly to account for Rain Fade and Inclined Orbit operation. ACM gives back that lost capacity. The data rate in each direction is maximized by having the modems exchange small information packets that tell the distant end what modcod will maximize the capacity. This is done seamlessly when enabled. The unit can be set to utilize either DVB-S2 modcods or DVB-S2X (which includes DVB-S2) for better capacity
Smart Carrier Canceller – Smart Carrier is a patented advanced second generation carrier canceller which allows 2 similar carriers to occupy the same transponder spectrum, but is different from other cancellers in that it is a baseband canceller instead of an IF canceller. It allows excellent performance with easy setup and no additional cabling. Smart Carrier is compatible with all Datum modulation types and FECs, and is well suited to be used with DVB-S2 and DVB-S2X Sharp Roll-Off factors all the way down to 5%. Datum's technique provides improvement in the Shannon Capacity of ~ 2 dB, which is ~50 % increase in the fundamental channel capacity.
System Architectures Supported
Point-to-Point, Point-to-Multipoint,
Mesh, Unicast & Multicast
Key Highlights
DVB-S2 and DVB-S2X Capability
Widest Range of Modcod selections
950 to 2150 MHz (50 to 180 MHz optional)
Data Rate from 256 kbps to 350 Mbps
256 kHz to 72 MHz Symbol Rate, 1 bps steps
QPSK/8PSK/8QAM/16APSK/32APSK/64APSK
(128APSK and 256APSK Optional)
Full DVB-S2X Range /Carrier Roll-Off Factors
Fully Supported
Adaptive Coding and Modulation (ACM)
Optional Smart Carrier Cancelling
E7-GSE Express Ethernet Interface

Efficient GSE Encapsulation
Layer 2 Bridge, Switch Based
4-Port with additional SFP Port
QoS and VLAN Support
VLAN Filtering

Highly Configurable Remote Terminal
Internal BUC and LNB Power Supply
High Stability 10 MHz Reference
Efficient Modem Control Channel, AUPC
State-of-the-Art Web Browser GUI
Local and Remote SNMP and Web Browser
Applications
IP Trunking
Enterprise
IP Networks
Cellular Backhaul
Dynamic SCPC
Quote Request - Datum M7 L/LT-S2-S2X Satellite Modem
---